Kajian Yuridis Pembebanan Hak Tanggungan Dalam Perjanjian Kredit Bank Terhadap Harta Bersama
(Studi Putusan Nomor : 676/Pdt.G.PLW/2016/PN.JKT.Sel)
I Ketut Mahatma Adi Putra Utama

Fakultas Hukum Universitas Mataram

Sahruddin Sahruddin

Dosen Fakultas Hukum Universitas Mataram
Abstract
This study aims to determine the implementation of the encumbrance of Mortgage in the joint property bank credit agreement and the execution of the object of Mortgage guarantee that has not been disclosed in Decision Number: 676/Pdt.G.PLW/2016/PN. JKT.Sel. This type of research uses normative research. The results of the study of the imposition of Mortgage in the bank credit agreement on joint assets after the death of the late Bambang Heryanto had to wait for the decision of the Religious Courts regarding the distribution of inheritance and the obligation to pay debts of the late Bambang Heryanto. While the form of execution of the object of mortgage is carried out by auction execution of the object of dispute.There are 4 main stages in the auction of collateral goods, namely Auction Preparation, Auction Implementation, Auction Minutes, Bookkeeping and Auction Reports.
References
Buku
M. Bahsan, 2012, Hukum Jaminan dan Jaminan Kredit Perbankan Indonesia, Cet.3, PT RajaGrafindo Persada, Jakarta.
M. Khoidin, 2017, Hukum Jaminan (Hak-Hak Jaminan, Hak Tanggungan, Dan Eksekusi Hak Tanggungan), Cet. 2, Laksbang Yustitia Surabaya, Surabaya.
Rachmadi Usman,2017, Hukum Lelang, Cet. 2, Sinar Grafika, Jakarta.
Salim HS, 2016, Perkembangan Hukum Jaminan Di Indonesia,Cet. 9, Rajawali Pers, Jakarta.
Urip Santoso, 2013, Pendaftaran Dan Peralihan Hak Atas Tanah, Cet. 3, Kencana, Jakarta.

Perundang-undangan
Indonesia, Undang-Undang No. 4 Tahun 1996 tentang Hak Tanggungan Atas Tanah Beserta Benda-Benda Yang Berkaitan Dengan Tanah.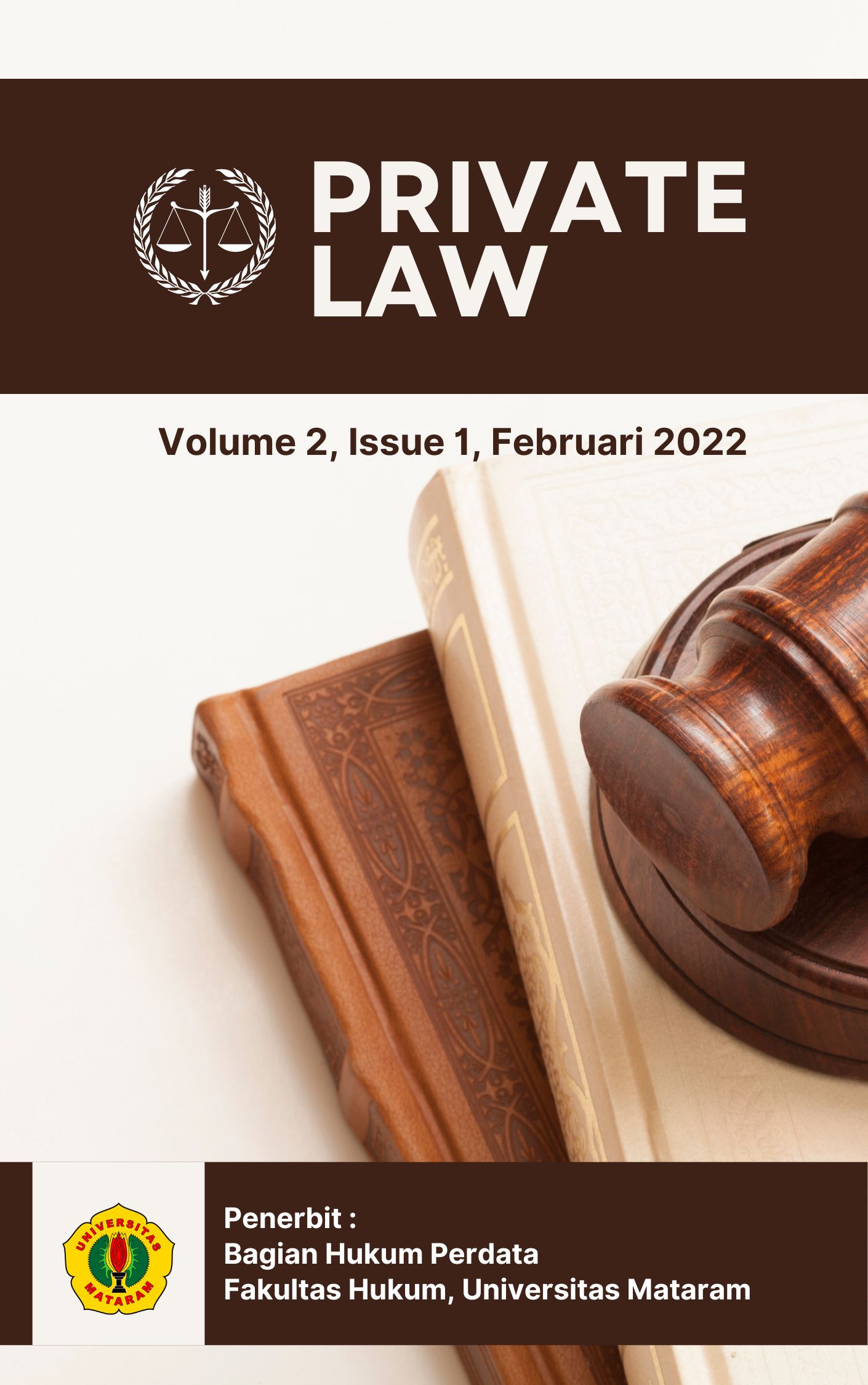 How to Cite
Mahatma Adi Putra Utama, I. K., & Sahruddin, S. (2022). Kajian Yuridis Pembebanan Hak Tanggungan Dalam Perjanjian Kredit Bank Terhadap Harta Bersama: (Studi Putusan Nomor : 676/Pdt.G.PLW/2016/PN.JKT.Sel). Private Law, 2(1), 169-177. Retrieved from https://journal.unram.ac.id/index.php/privatelaw/article/view/658