HAK WARIS ANAK LUAR KAWIN MENURUT KITAB UNDANG-UNDANG HUKUM PERDATA DAN HUKUM ADAT BALI (SUATU TINJAUAN PERBANDINGAN HUKUM)
Ni Putu Eliana Trisnayani

Mahasiswa Hukum Perdata Fakultas Hukum Universitas Mataram

Sahruddin Sahruddin

Dosen Fakultas Hukum Universitas Mataram
Abstract
This research aims are to study and to analyze inheritance rights of children that born beyond marriage according to KUHPerdata and Balinese Adat Law and also to know the similiraties and differences between those laws. KUHPerdata states that only recognized children which born beyond marriage that entitle to parents inheritance, however for "unlegitimate" child did not get the rights. KUHPerdata also regulate percentage of inheritance rights for the children beyond marriage, it can be seen in Article 863-865 KUHPerdata. In addition, in Balinese adat law did not recognize the children beyond marriage rights as a heir from his biological father, thus the civil relations only to his mother. However, children beyond marriage will be under their parents responsibility, limited to giving off not heritance.
References
Buku-Buku/Literarur

I ketut Artadi, 2012, Hukum Adat Bali Dengan Aneka Masalahnya, Pustaka Bali Post, Denpasar.

J Andi Hartanto, 2008. Kedudukan Hukum dan Hak Waris Anak Luar Kawin Menurut Kitab Undang- Undang Hukum Perdata, Laksbang Presindo,Yogyakarta.

Muzaky, 2014, Kitab Undang-Undang Hukum Perdata, Aksara Sukses, Yongyakarta.


Peraturan Perundang-Undnagan

Indonesia, Undang Undang Tentang Perubahan Atas Undang-Undnag Nomor 23 Tahun 2006 Tentang Administrasi Kependudukan, UU Nomor 24 Tahun 2013, LN No. 124 Tahun 2006, TLN No. 4674, Pasal. 50.

Putusan Makamah Konstitusi Nomor 46/PUU-VIII/2010.


Internet

I Made Sudarmawan S, Tinjauwan Hukum Pelaksanaan Pembagian Waris Terhadap Anak Astra di Bali, http://digilib.unhas.ac.id/uploaded_files/temporary/DigitalCollection/YzQzMWJjNTk4YTkwNThlOWQyMjcxNjUyNDIwZmFiM2Y5YTBjOGFlNg==.pdf, diakses pada 17 Mei 2021, pukul 20:30

I Wayan Murni, Hak Waris Anak Luar Kawin Menurut Hukum Adat Bali (studi di Dusa Dukuh Kecamatan Sideman Kabupaten Karangasem), http://jurnal.stahnmpukuturan.ac.id/index.php/pariksa/article/view/702/583, (diakses pada 17 Mie 2021, pukul 19:30).

Youdhea Kumoro, Hak dan Kedudukan Anak Luar Nikah dalam Pewarisan Menurut KUH-Perdata, https://ejournal.unsrat.ac.id/index.php/lexcrimen/article/view/15338 (diakses pada 16 Mei 2021, pukul 21:50).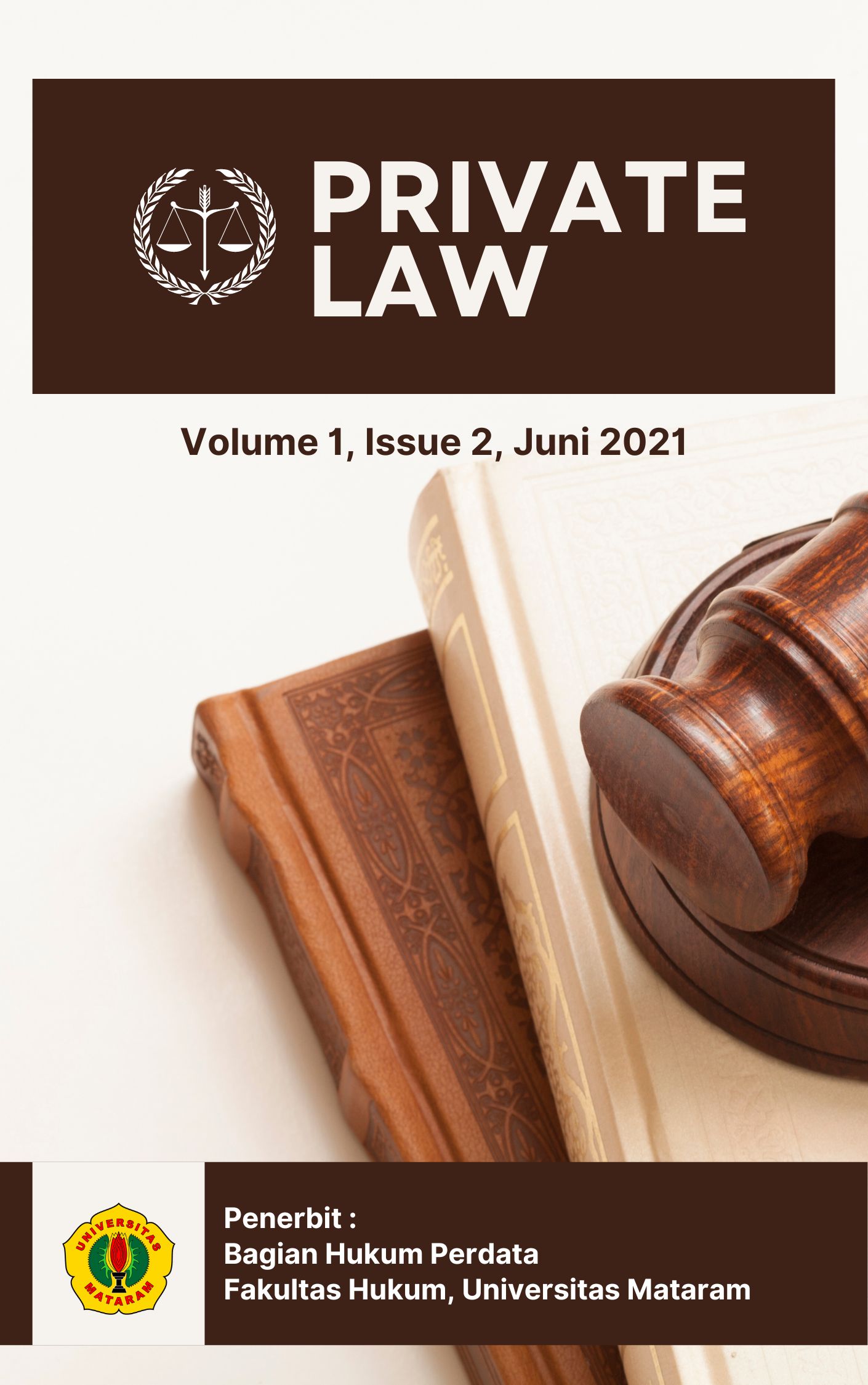 How to Cite
Eliana Trisnayani, N. P., & Sahruddin, S. (2021). HAK WARIS ANAK LUAR KAWIN MENURUT KITAB UNDANG-UNDANG HUKUM PERDATA DAN HUKUM ADAT BALI (SUATU TINJAUAN PERBANDINGAN HUKUM). Private Law, 1(2), 109-116. https://doi.org/10.29303/prlw.v1i2.247