Analisis Peralihan Hak Atas Tanah Adat Menjadi Hak Milik Perorangan
(Studi Desa Rarak Ronges Kecamatan Brang Rea Kabupaten Sumbawa Barat)
Tri Purwanto

Fakultas Hukum Universitas Mataram

Arief Rahman

Fakultas Hukum Universitas Mataram
Abstract
This study examines the origin of acquisition, as well as the transfer process from customary land ownership rights to individual one. This study is an empirical one with statute, conceptual, and sociological approaches. The origin of customary land in Rarak Ronges Village before village separation had come from forestry land. Local community, then, collectively cleared the land. Over time, these lands has been abandoned. The basis for individual acquisition over those previously abandoned customary land is by cultivating them continuously for over 20 years.
References
Anshari Siregar, 2011, Undang-Undang Pokok Agraria Dalam Bagan, Medan, Kelompok Studi Hukum Dan Masyarakat, Fakultas Hukum Universitas Sumatera Utara
Budi Harsono, 2008 "Hukum Agraria Indonesia Indonesia, Sejarah Pembentukan Undang-Undangpokok Agraria, Isi Dan Pelaksanaannya", Djambatan, Jakarta
Muhammad Bakri, 2007, Hak Menguasai Tanah Oleh Negara (Paradigma Baru Untuk Reformasi Agraria), Yogyakarta, Citra Media
Sarkawi 2014,"Hukum pembebasan tanah hak milik adat untuk pembangunan kepentingan umum" Graha Ilmu: Yogyakarta,.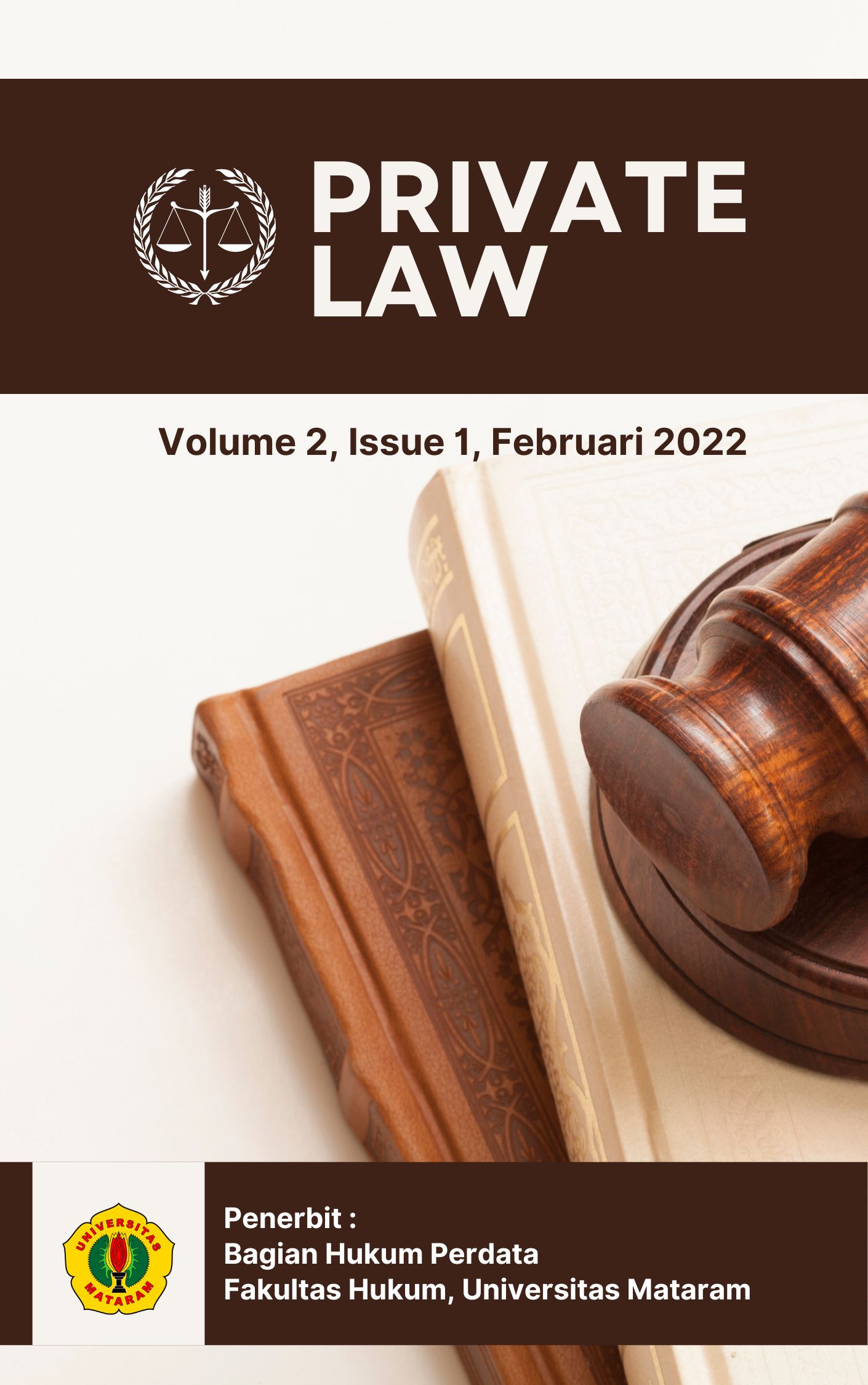 How to Cite
Purwanto, T., & Rahman, A. (2022). Analisis Peralihan Hak Atas Tanah Adat Menjadi Hak Milik Perorangan: (Studi Desa Rarak Ronges Kecamatan Brang Rea Kabupaten Sumbawa Barat). Private Law, 2(1), 64-72. Retrieved from https://journal.unram.ac.id/index.php/privatelaw/article/view/643