Peran Badan Pelindungan Pekerja Migran Indonesia (BP2MI) Dalam Upaya Perindungan Hukum Pra Penempatan Pekerja Migran Indonesia
(Studi di UPT BP2MI Mataram)
Adinda Rizka

Fakultas Hukum Universitas Mataram

Any Suryani Hamzah

Fakultas Hukum Universitas Mataram
Abstract
Migrant worker is an alternative in order to minimize unemployment number in Indonesia. BP2MI is an agency who has responsibilities to protect Indonesian migrant worker in time of pre-placement, placement and post placement. The aims of this research are to know the role of BP2MI Mataram in the protection of migrant worker during pre-placement time and implementation of Government Regulation Number 90 of 2019 on BP2MI. This research is qualified as empirical legal research. From research result, it is shows that form of legal protection in pre-placement phase are administratively and technically. However, it implementation of migrant worker protection by BP2MI Mataram is delivered by pre-placement protection.
References
BUKU
Khakim, Abdul. (2014). Dasar-Dasar Hukum Ketenagakerjaan Indonesia Cet.1, Ed. IV. Bandung: PT. Citra Aditya Bakti.
Marzuki, Peter Mahmud. (2017). Penelitian Hukum Ed. Revisi Cet. 13. Kencana.
Tim Penulis Brawijaya (2010). Spirit Hukum. Malang: UB Press.

SKRIPSI
Sukowati, Fajar Rizki. (2020). Peranan Badan Pelindungan Pekerja Migran Indonesia (BP2MI) Dalam Upaya Memberikan Pelindungan Hukum Terhadap Pekerja Migran Indonesia. Surakarta: Universitas Sebelas Maret.

PERATURAN PERUNDANG-UNDANGAN
Indonesia. Undang-Undang Nomor 18 Tahun 2017 Tentang Pelindungan Pekerja Migran Indonesia. LNRI Tahun 2017 Nomor 242, TLNRI Nomor 6141.
Indonesia. Peraturan Presiden Nomor 90 Tahun 2019 Tentang Badan Pelindung Pekerja Migran Indonesia. LNRI Tahun 2019 Nomor 263
Indonesia. Peraturan Pemerintah Nomor 59 Tahun 2021 Tentang Pelaksanaan Pelindungan Pekerja Migran Indonesia. LNRI Tahun 2021 Nomor 94, TLNRI Nomor 6678

WAWANCARA
I Komang Soblo Adiwirya, S.Sos. Wawancara dengan Kepala Sub Bagian Tata Usaha UPT BP2MI Mataram. (Mataram, 8 November 2021).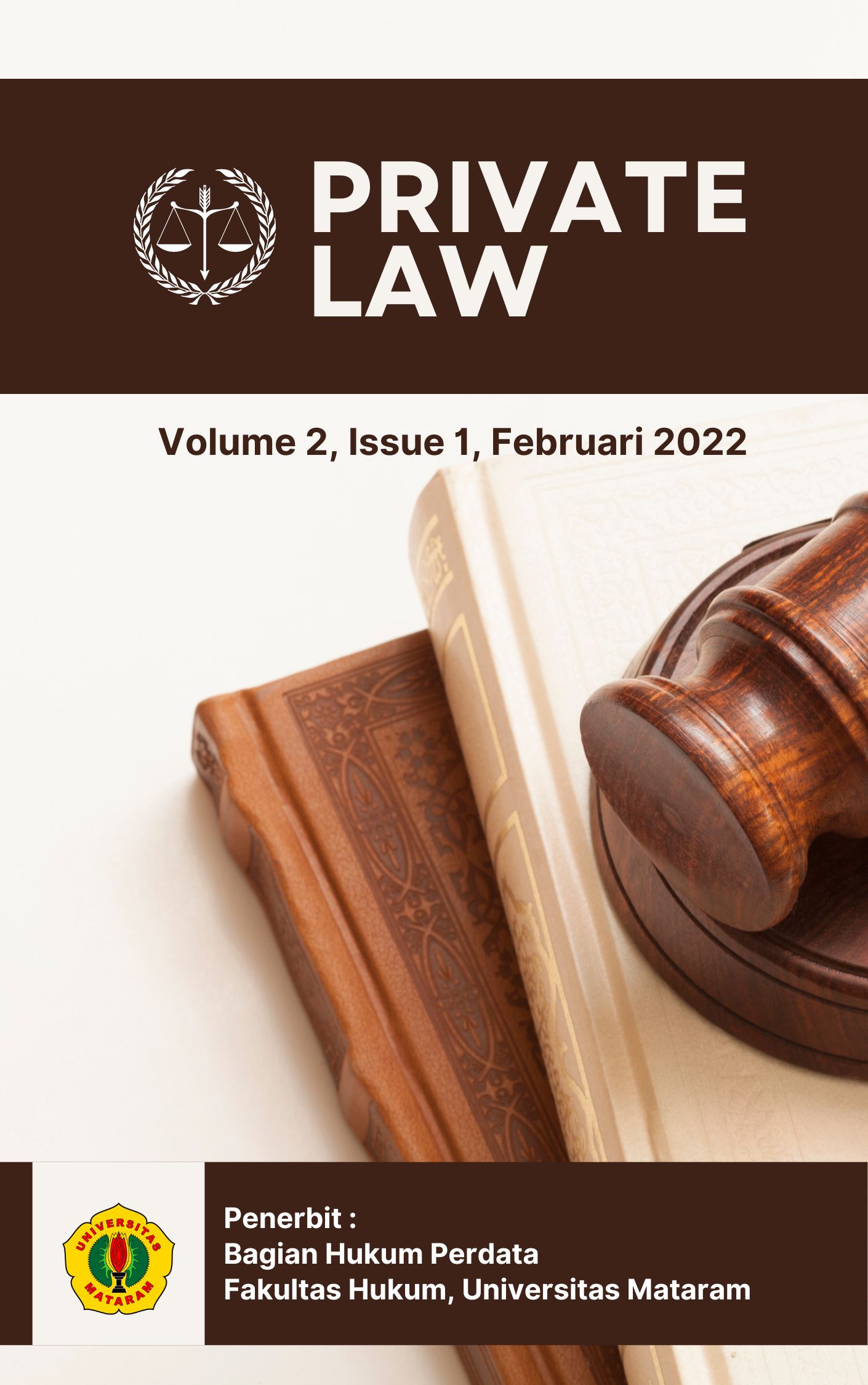 How to Cite
Rizka, A., & Suryani Hamzah, A. (2022). Peran Badan Pelindungan Pekerja Migran Indonesia (BP2MI) Dalam Upaya Perindungan Hukum Pra Penempatan Pekerja Migran Indonesia : (Studi di UPT BP2MI Mataram). Private Law, 2(1), 116-123. Retrieved from https://journal.unram.ac.id/index.php/privatelaw/article/view/652