Kedudukan Penanggung Dalam Perkara Kepailitan
Putri Auliya Lestari

Universitas Mataram

Zainal Asikin

Universitas Mataram

I Gusti Agung Wisudawan

Universitas Mataram
Keywords:
Perjanjian, Personal Garansi, Hutang Piutang
Abstract
Penelitian ini bertujuan untuk mengetahui apakah dalam perjanjian utang piutang dapat dibuatkan perjanjian personal garansi dan bagaimanakah kekuatan hukum persolan garansi (penangungan) dalam perkara kepailitan. Metode yang digunakan adalah pendekatan perundang-undangan (statute approach), pendekatan konseptual (conceptual approach) dan Pendekatan Sosiologis (Social Approach). Adapun hasil penelitian ini adalah dalam Pasal 1820 sampai dengan 1864 Kitab Undang-Undang Hukum Perdata (Burgerlijk Wetboek) dan jaminan kebendaan, dapat dilihat bahwa penanggungan atau jaminan perorangan dapat diberikan baik oleh orang perorangan atau oleh badan hukum, melihat dari sisi kekuatan hukum personal garansi dalam pasal 1831 bahwa personal garansi memiliki hak untuk menjual benda atau barang debitur utama untuk melunaskan hutang piutangnya kepada kreditur dan pasal 1843 tentang kerugian yang di derita personal garansi akibat kelalaian yang menyebabkan wanprestasi pihak utama. Berdasarkan hasil penelitian dapat ditarik kesimpulan adalah bahwa perjanjian utang piutang dapat dibuatkan personal garansi dengan catatan personal garansi cakap demi hukum dan bertanggung jawab pada kreditur untuk melunasi utang piutang debitur utama, dan kekuatan hukum personal garansi memiliki hak untuk menjual dan menggantikan kerugian yang timbul karena wanprestasi atau kelalaian debitur utama.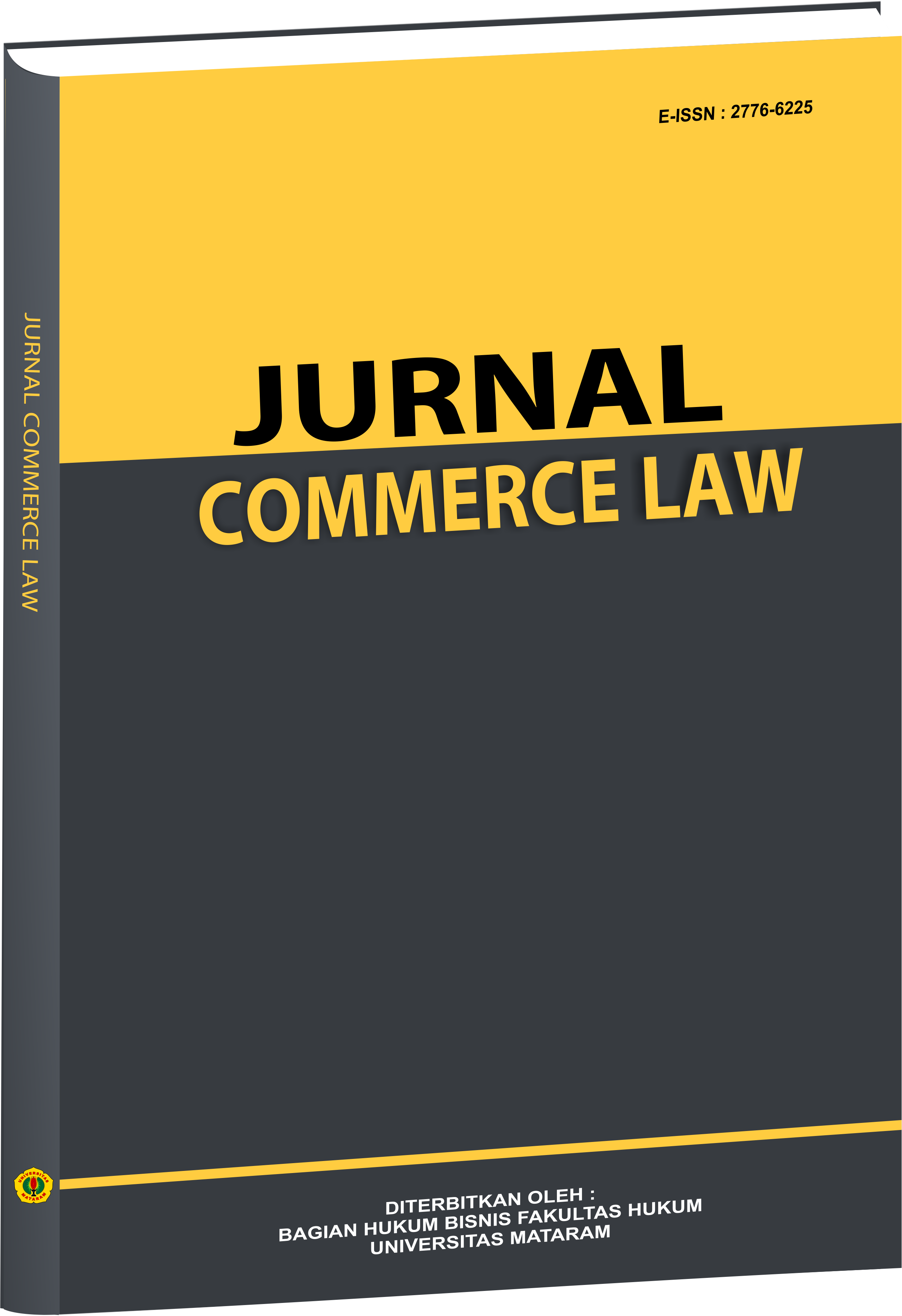 How to Cite
Lestari, P. A., Asikin, Z., & Wisudawan, I. G. A. (2022). Kedudukan Penanggung Dalam Perkara Kepailitan. Commerce Law, 2(1). https://doi.org/10.29303/commercelaw.v2i1.1348
Copyright (c) 2022 Putri Auliya Lestari, Zainal Asikin, I Gusti Agung Wisudawan
This work is licensed under a Creative Commons Attribution-NonCommercial-NoDerivatives 4.0 International License.
The authors hold the copyright. Authors retain copyright and grant the journal right of first publication with the work simultaneously licensed under a Creative Creative Commons Attribution-NonCommercial-NoDerivatives 4.0 International License.. that allows others to share the work with an acknowledgement of the work's authorship and initial publication in this journal. How ever the author should affirming that the article is their original work should accompany the article via online submission form. Authors are permitted to share a Preprint of their article anywhere at any time.