Kedudukan Hukum Pisah Harta Antara Suami Dan Istri Dalam Kepailitan
Silvia Handayani Zuhairoh

Universitas Mataram

Sudiarto Sudiarto

Universitas Mataram

I Gusti Agung Wisudawan

Universitas Mataram
Keywords:
Kedudukan Hukum, Pisah Harta, Pailit
Abstract
Penelitian ini bertujuan untuk mengetahui kedudukan hukum pisah harta dalam perkara kepailitan dan akibat dari perjanjian pisah harta terhadap kepailitan. Metode Penelitian memilih Jenis Penelitian hukum normatif. Permasalahan yang dibahas adalah Kedudukan dari Hukum Pisah Harta dalam Perkara Kepailitan dan Akibat Hukum dari Pisah Harta didalam Kepailitan. Metode Pendekatan yang digunakan adalah pendekatan perundang-undangan dan pendekatan konseptual. Hasil dari penelitian ini adalah menjelaskan Kedudukan Hukum Pisah Harta didalam Perkara Kepailitan di Indonesia perkawinan, perceraian dan kewarisan diatur dalam Undang-Undang No.1 Tahun 1974 tentang Perkawinan menjadi dasar hukum di Indonesia tentang perkawinan beserta akibat hukumnya. Dengan adanya Undang-Undang Perkawinan didalamnya terdapat perjanjian pisah harta, maka harta asal suami istri tetap terpisah dan tidak terbentuk harta bersama, suami istri memisahkan harta yang didapat masing-masing selama perkawinan.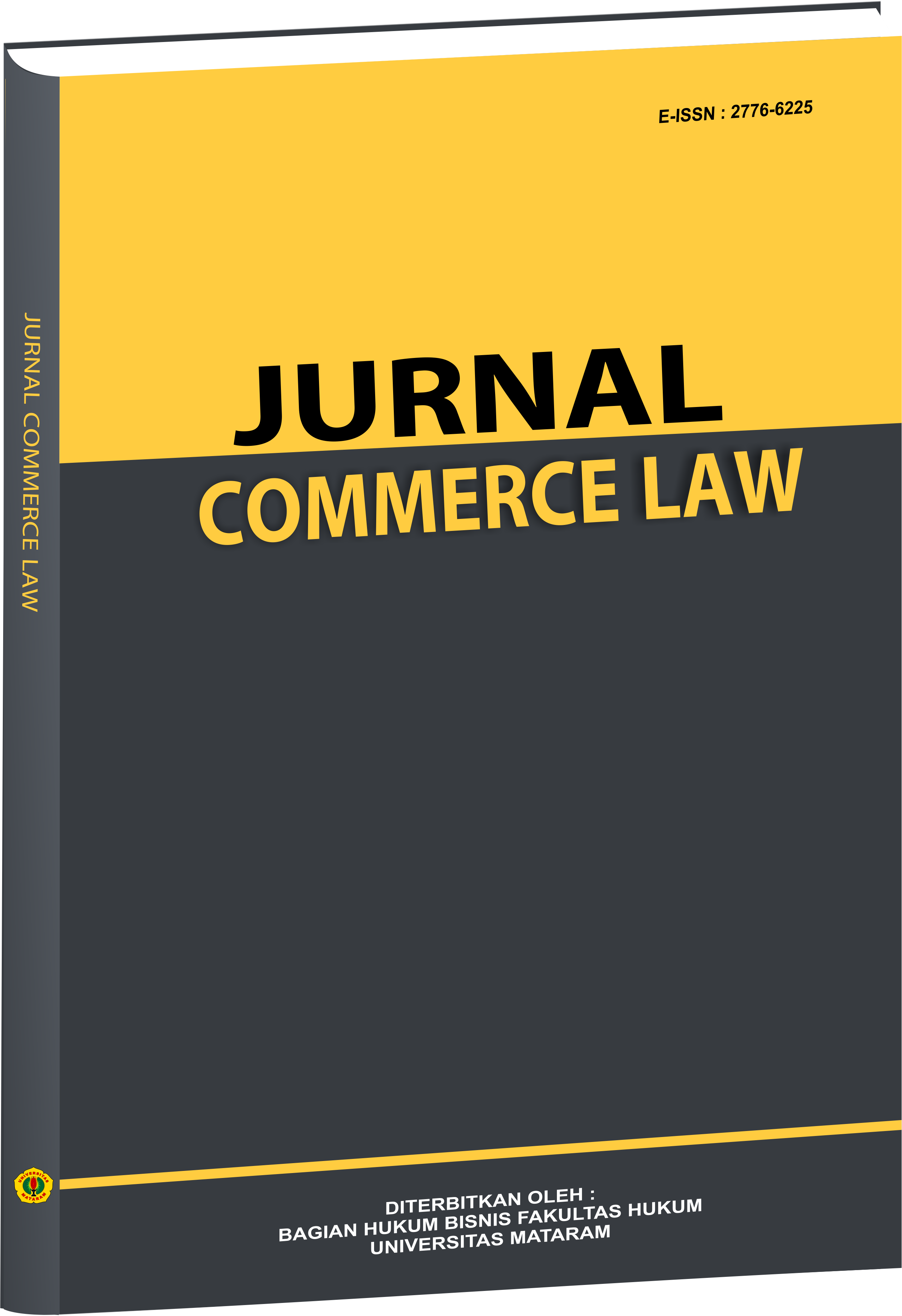 How to Cite
Zuhairoh, S. H., Sudiarto, S., & Wisudawan, I. G. A. (2022). Kedudukan Hukum Pisah Harta Antara Suami Dan Istri Dalam Kepailitan. Commerce Law, 2(1). https://doi.org/10.29303/commercelaw.v2i1.1342
Copyright (c) 2022 Silvia Handayani Zuhairoh, Sudiarto Sudiarto, I Gusti Agung Wisudawan
This work is licensed under a Creative Commons Attribution-NonCommercial-NoDerivatives 4.0 International License.
The authors hold the copyright. Authors retain copyright and grant the journal right of first publication with the work simultaneously licensed under a Creative Creative Commons Attribution-NonCommercial-NoDerivatives 4.0 International License.. that allows others to share the work with an acknowledgement of the work's authorship and initial publication in this journal. How ever the author should affirming that the article is their original work should accompany the article via online submission form. Authors are permitted to share a Preprint of their article anywhere at any time.