Tanggung Jawab Pelaku Usaha Terhadap Makanan Yang Kadaluarsa (Studi Di Kecamatan Ampenan)
Ibnu Rato Karunia

Universitas Mataram

Lalu Wira Pria Suhartana

Universitas Mataram

Ahmad Zuhairi

Universitas Mataram
Keywords:
Perlindungan Hukum, Konsumen, Makanan Kadaluarsa
Abstract
Tujuan penelitian ini untuk mengetahui tanggung jawab pelaku usaha terhadap makanan yang kadaluarsa di Kecamatan Ampenan. Jenis penelitian dalam penulisan ini adalah penelitian normatif empiris. Hasil penelitian ini bahwa perlindungan hukum bagi konsumen yang tertuang dalam UUPK adalah menjamin hak konsumen terkait dengan pembelian terhadap makanan yang layak konsumsi yakni hak atas kenyamanan, keamanan, dan keselamatan dalam mengkonsumsi barang. Tanggung jawab pelaku usaha atas kecurangan yang telah dilakukan hendaknya memberikan ganti kerugian atas apa yang telah dilakukan kepada konsumennya. Maka diperlukan edukasi dari perdangangan NTB dan BBPOM Mataram kepada pelaku usaha agar tidak melakukan penjualan makanan yang sudah tidak layak konsumsi dan kadaluasa.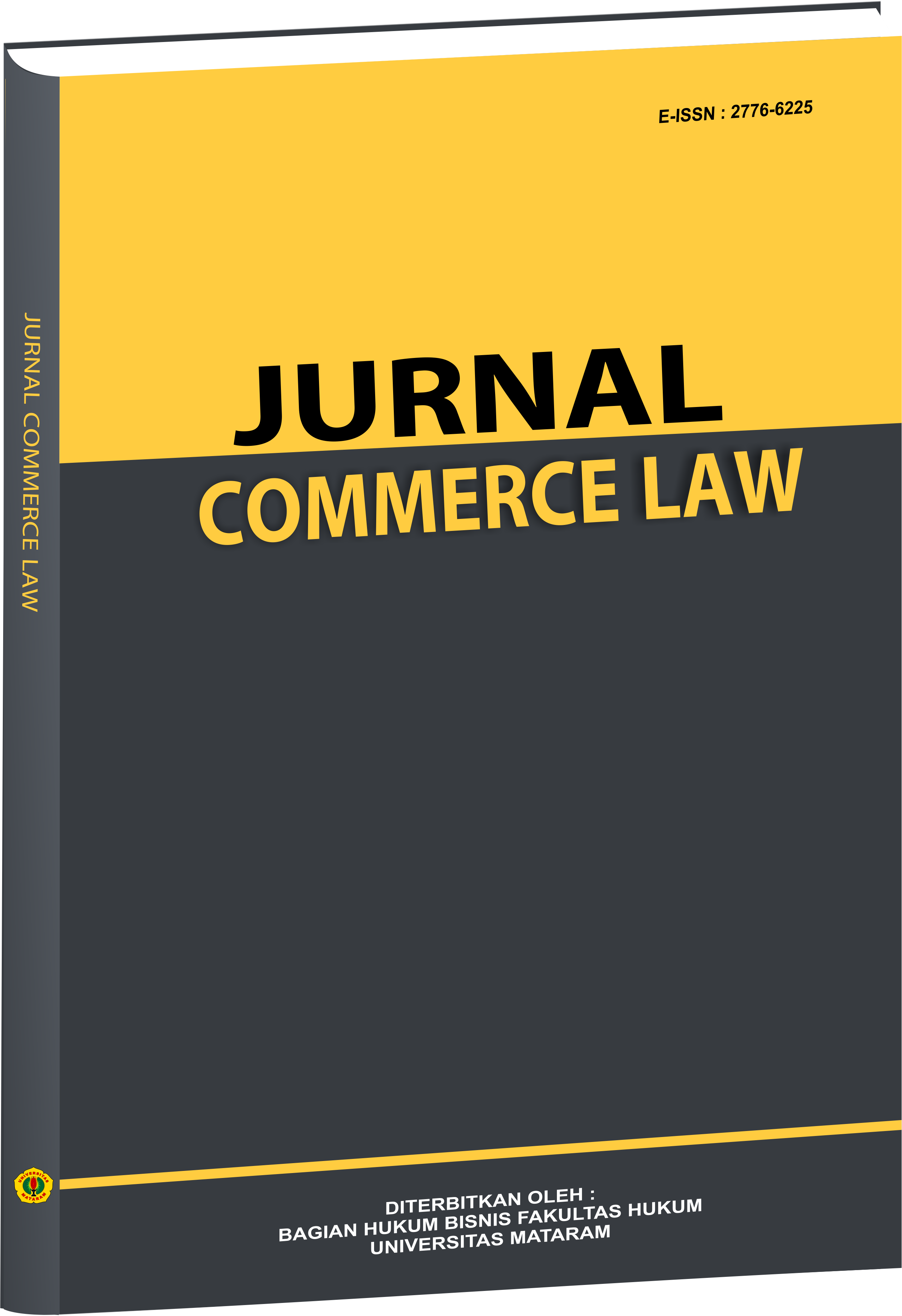 How to Cite
Karunia, I. R., Suhartana, L. W. P., & Zuhairi, A. (2022). Tanggung Jawab Pelaku Usaha Terhadap Makanan Yang Kadaluarsa (Studi Di Kecamatan Ampenan). Commerce Law, 2(1). https://doi.org/10.29303/commercelaw.v2i1.1347
Copyright (c) 2022 Ibnu Rato Karunia, Lalu Wira Pria Suhartana, Ahmad Zuhairi
This work is licensed under a Creative Commons Attribution-NonCommercial-NoDerivatives 4.0 International License.
The authors hold the copyright. Authors retain copyright and grant the journal right of first publication with the work simultaneously licensed under a Creative Creative Commons Attribution-NonCommercial-NoDerivatives 4.0 International License.. that allows others to share the work with an acknowledgement of the work's authorship and initial publication in this journal. How ever the author should affirming that the article is their original work should accompany the article via online submission form. Authors are permitted to share a Preprint of their article anywhere at any time.