Penyelesaian Sengketa Kerja Sama Tambang Galian C (Studi Kasus Di Desa Pemepek)
M. Wahyu Zamani

Universitas Mataram

Lalu Wira Pria Suhartana

Universitas Mataram

Diman Ade Mulada

Universitas Mataram
Keywords:
Penyelesaian Sengketa, Perjanjian, Kerja Sama, Tambang Galian C
Abstract
Tujuan dari penelitian ini untuk mengetahui perlindungan hukum dan penyelesaian sengketa bagi para pihak dalam melakukan perjanjian kerja sama tambang galian c. Metode penelitian dalam penulisan ini adalah penelitian normatif empiris. Hasil penelitian didapatkan bahwa perlindungan hukum bagi para pihak dalam perjanjian kerja sama pertambangan galian c di Desa Pemepek yang dilakukan oleh Tuan Kasim dan Tuan Humaidi dibagi menjadi dua perlindungan hukum yakni perlindungan hukum yang bersifat preventif yang dalam hal ini perjanjian dalam bentuk autentik yang telah ditandatangani kedua belah pihak dihadapan notaris yang di dalamnya memuat ketentuan hak serta kewejiban para pihak dan perlindungan hukum yang bersifat represif yakni melalui penyelesaian sengketa di pengadilan para ranah hukum Pengadilan Negeri Praya Lombok Tengah. Adapun upaya hukum yang dilakukan oleh kedua belah pihak dalam menyelesaikan permasalahan wanprestasinya yakni menggunakan upaya hukum diluar pengadilan (non litigasi) yaitu dengan cara negosiasi.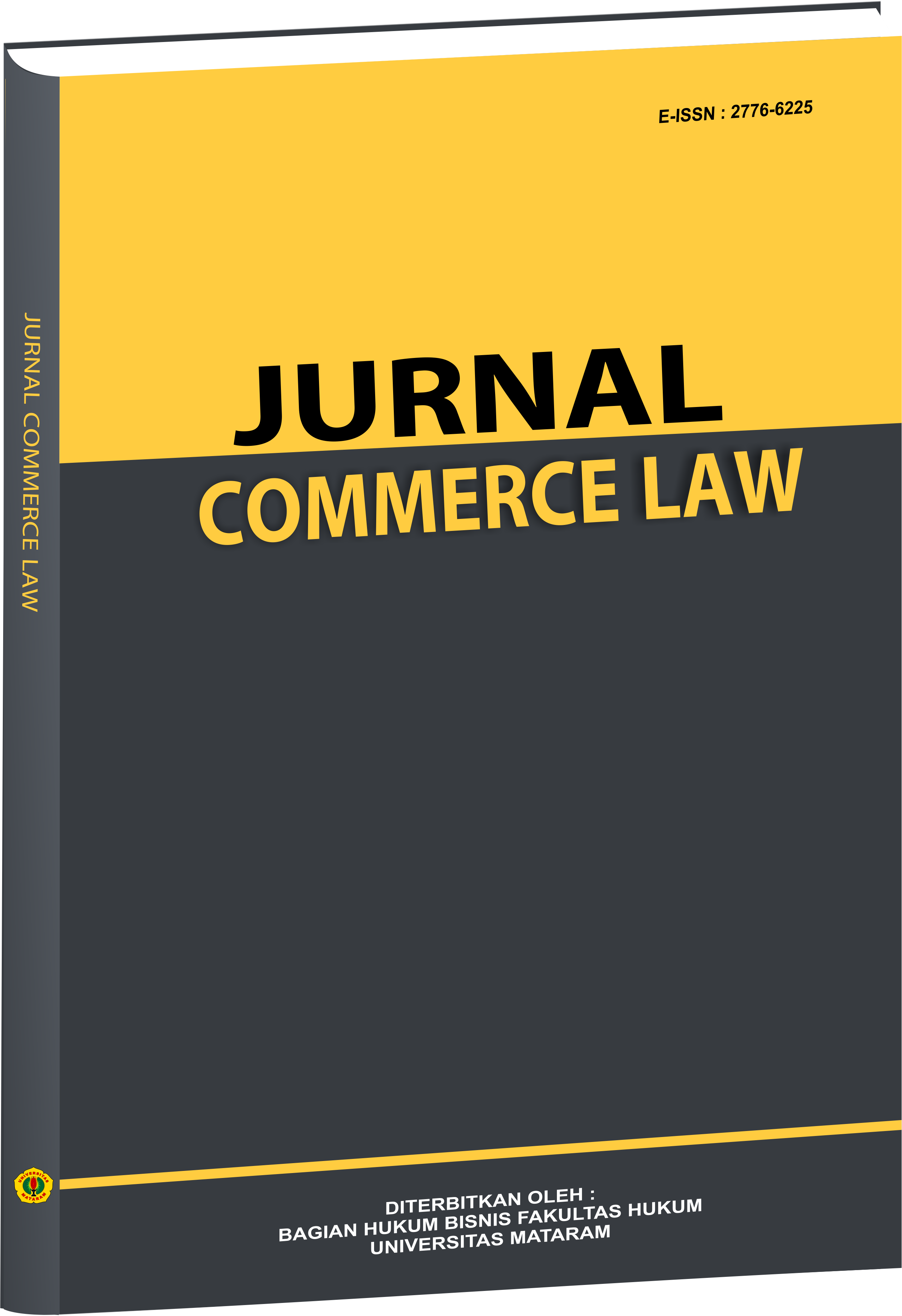 How to Cite
Zamani, M. W., Suhartana, L. W. P., & Mulada, D. A. (2022). Penyelesaian Sengketa Kerja Sama Tambang Galian C (Studi Kasus Di Desa Pemepek). Commerce Law, 2(1). https://doi.org/10.29303/commercelaw.v2i1.1343
Copyright (c) 2022 M. Wahyu Zamani, Lalu Wira Pria Suhartana, Diman Ade Mulada
This work is licensed under a Creative Commons Attribution-NonCommercial-NoDerivatives 4.0 International License.
The authors hold the copyright. Authors retain copyright and grant the journal right of first publication with the work simultaneously licensed under a Creative Creative Commons Attribution-NonCommercial-NoDerivatives 4.0 International License.. that allows others to share the work with an acknowledgement of the work's authorship and initial publication in this journal. How ever the author should affirming that the article is their original work should accompany the article via online submission form. Authors are permitted to share a Preprint of their article anywhere at any time.