Tanggung Jawab Pelaku Usaha Terhadap Barang Yang Cacat Setelah Melakukan Transaksi Ditinjau Dari Perspektif Hukum Perlindungan Konsumen
Sonia Mahayani

Universitas Mataram

Ahmad Zuhairi

Universitas Mataram

Moh. Saleh

Universitas Mataram
Keywords:
Tanggung Jawab, Pelaku Usaha, Perlindungan Hukum, Barang Cacat
Abstract
Tujuan penelitian ini yaitu untuk mengetahui dan menganalisis tanggung jawab pelaku usaha dan perlindungan hukum terhadap barang yang mengandung cacat yang diketahui pasca transaksi ditinjau dari hukum perlindungan konsumen. Jenis penelitian yang digunakan adalah jenis penelitian hukum normatif, dan menggunakan metode pendekatan perundang-undangan (statute approach), pendekatan konsep (conceptual approach), dan pendekatan kasus (case approach. Hasil penelitian ini adalah tanggung jawab pelaku usaha terhadap konsumen atas barang yang cacat pasca transaksi disebabkan karena adanya hubungan hukum antara pelaku usaha dengan konsumen yang mengakibatkan timbulnya suatu hak dan kewajiban bagi kedua belah pihak. Adapun bentuk tanggung jawab pelaku usaha atas kerugian yang diderita konsumen, yaitu berupa pengembalian uang, penggantian barang atau jasa yang sejenis yang setara nilainya, dan pemberian perawatan kesehatan atau santunan yang sesuai dengan peraturan perundang-undangan. Dan bentuk perlindungan hukum yang diberikan yaitu perlindungan hukum preventif dengan memberikan suatu pengawasan atau pembinaan dari pemerintah, sosialisasi baik dari pelaku usaha maupun pemerintah, suatu kontrol atau adanya pihak yang mengontrol suatu barang atau jasa yang masuk ke suatu perusahaan atau tempat produksi. Dan perlindungan represif berupa penyelesaian suatu sengketa, juga berupa sanksi administratif, sanksi perdata maupun sanksi pidana berdasarkan peraturan perundang-undangan.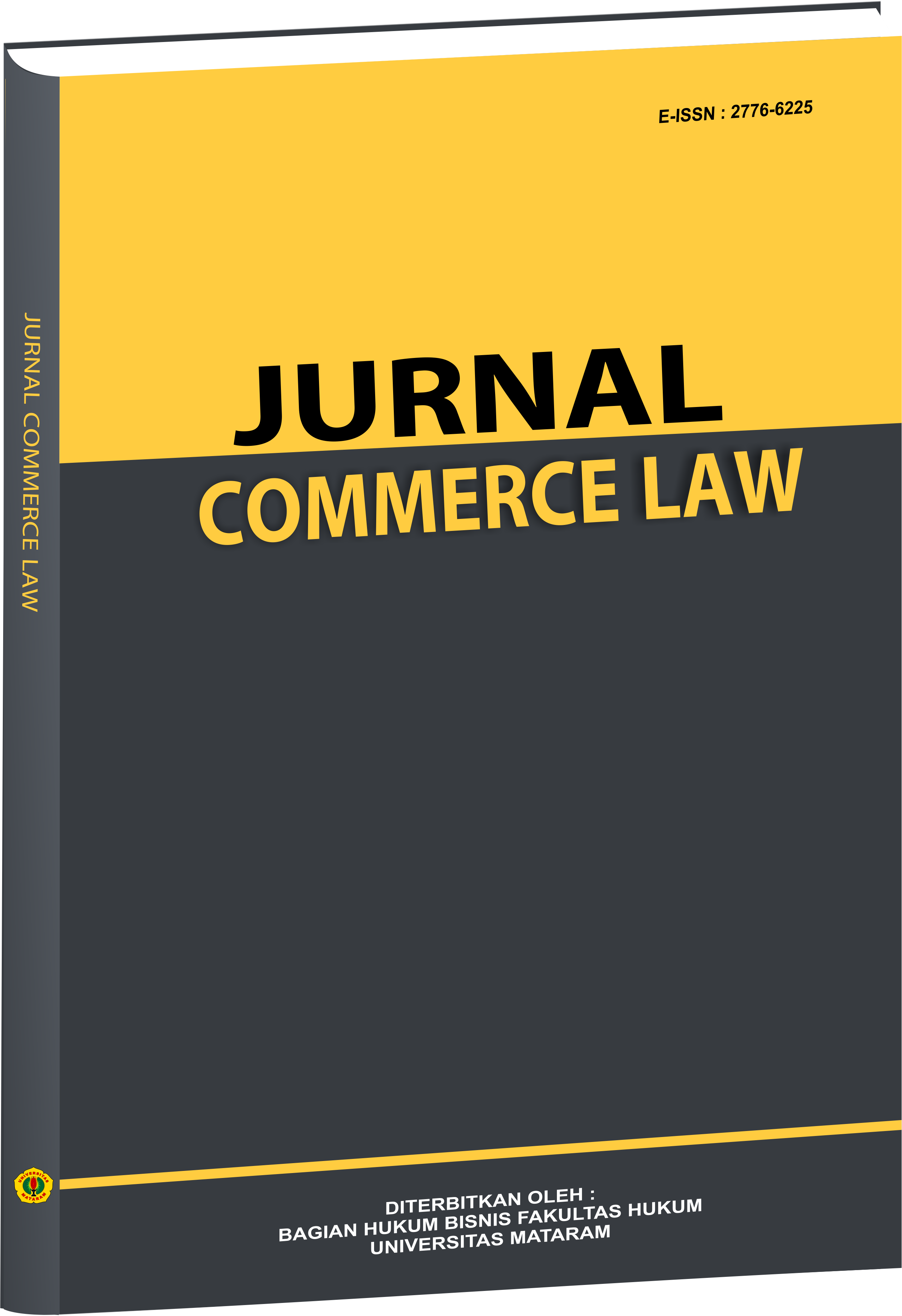 How to Cite
Mahayani, S., Zuhairi, A., & Saleh, M. (2022). Tanggung Jawab Pelaku Usaha Terhadap Barang Yang Cacat Setelah Melakukan Transaksi Ditinjau Dari Perspektif Hukum Perlindungan Konsumen. Commerce Law, 2(1). https://doi.org/10.29303/commercelaw.v2i1.1364
Copyright (c) 2022 Sonia Mahayani, Ahmad Zuhairi, Moh. Saleh
This work is licensed under a Creative Commons Attribution-NonCommercial-NoDerivatives 4.0 International License.
The authors hold the copyright. Authors retain copyright and grant the journal right of first publication with the work simultaneously licensed under a Creative Creative Commons Attribution-NonCommercial-NoDerivatives 4.0 International License.. that allows others to share the work with an acknowledgement of the work's authorship and initial publication in this journal. How ever the author should affirming that the article is their original work should accompany the article via online submission form. Authors are permitted to share a Preprint of their article anywhere at any time.