Anggung Jawab Pelaku Usaha Terhadap Konsumen Dalam Transaksi Dagang Melalui Sistem Dropship
Ni Kadek Ayu Arini

Universitas Mataram

Lalu Wira Pria Suhartana

Universitas Mataram
Keywords:
Tanggung Jawab; Pelaku Usaha; Sistem Dropship
Abstract
Tujuan penelitian ini adalah untuk mengetahui dan menganalisis tanggung jawab pelaku usaha terhadap konsumen dalam transaksi dagang melalui sistem dropship serta bentuk perlindungan hukum terhadap konsumen dalam transaksi dagang dengan sistem dropship sesuai dengan Undang-Undang Nomor 8 Tahun 1999 Tentang Perlindungan Konsumen. Metode penelitian yang digunakan dalam penelitian ini yaitu menggunakan metode penelitian normatif. Kesimpulan dari hasil penelitian yang didapat yaitu Dropshipper harus bertanggung jawab atas barang yang dijual pada pembeli atau konsumen yang merasa dirugikan. Bentuk perlindungan hukum terhadap konsumen dapat dilakukan secara preventif dan represif. Perlindungan hukum secara preventif yang dapat diberikan pelaku usaha dalam melindungi konsumen yaitu dengan melaksanakan kewajiban dan menghindari perbuatan yang dilarang bagi pelaku usaha agar dapat mencegah terjadinya pelanggaran terhadap hak-hak konsumen. Perlindungan hukum secara represif yaitu dalam hal penyelesaian sengketa dibagi menjadi dua yaitu melalui jalur litigasi dan non litigasi.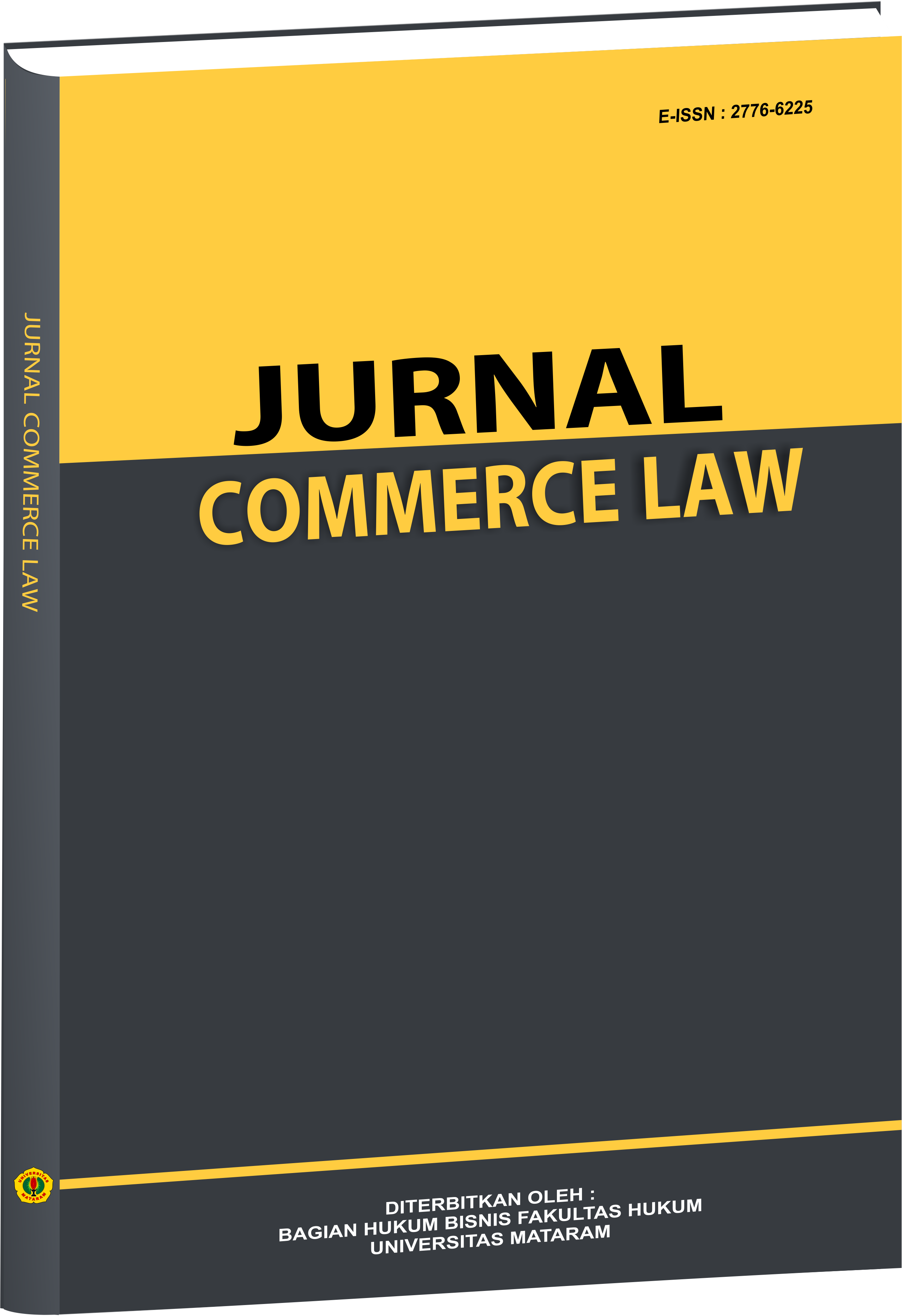 How to Cite
Arini, N. K. A., & Suhartana, L. W. P. (2022). Anggung Jawab Pelaku Usaha Terhadap Konsumen Dalam Transaksi Dagang Melalui Sistem Dropship. Commerce Law, 2(2). https://doi.org/10.29303/commercelaw.v2i2.2053
Copyright (c) 2022 Ni Kadek Ayu Arini, Lalu Wira Pria Suhartana
This work is licensed under a Creative Commons Attribution-NonCommercial-NoDerivatives 4.0 International License.
The authors hold the copyright. Authors retain copyright and grant the journal right of first publication with the work simultaneously licensed under a Creative Creative Commons Attribution-NonCommercial-NoDerivatives 4.0 International License.. that allows others to share the work with an acknowledgement of the work's authorship and initial publication in this journal. How ever the author should affirming that the article is their original work should accompany the article via online submission form. Authors are permitted to share a Preprint of their article anywhere at any time.