Perlindungan Hukum Usaha Mikro Kecil Dan Menengah (UMKM) Terhadap Praktik Monopoli Dilihat Dari Perspektif Hukum Persaingan Usaha
Sopyan Hadi

Universitas Mataram

Ari Rahmad Hakim B.F.

Universitas Mataram

Diman Ade Mulada

Universitas Mataram
Keywords:
Perlindungan Hukum, UMKM, Praktik Monopoli
Abstract
Tujuan penelitian ini adalah untuk mengetahui perlindungan hukum bagi UMKM terkait terjadinya praktik monopoli perdagangan dan peran pemerintah dalam menanggulangi terjadinya praktik monopoli terhadap UMKM dalam persaingan usaha. Metode penelitian dalam skripsi ini adalah penelitian hukum normatif. Simpulannya adalah a). Perlindungan hukum terhadap UMKM terdiri dari perlindungan hukum preventif dan represif. Preventif berupa pencegahan dimana pelaku Usaha Besar dilarang membuat perjanjian-perjanjian dan perbuatan-perbuatan yang dapat merugikan pelaku persaingan usaha yang tidak sehat sertamemberikankesempatanberusahabagi UMKM. Sedangkan represif terdiri dari pemberian sanksi berupa sanksi administrasi, sanksi pidana pokok dan pidana tambahan. b). Peranpemerintah dalam menanggulangi terjadinya praktik monopoli telah diatur dalam berbagai instrument hukum. Adapun peran tersebut terdiri dari menyediakan fasilitas pendanaan, fasilitas sarana dan prasarana, fasilitas sarana informasi usaha, kemitraan dan perizinan berusaha yang mudah, pemberian kemudahan dan insentif, pengaturan kemitraan dan penataanlokasi pasar modern.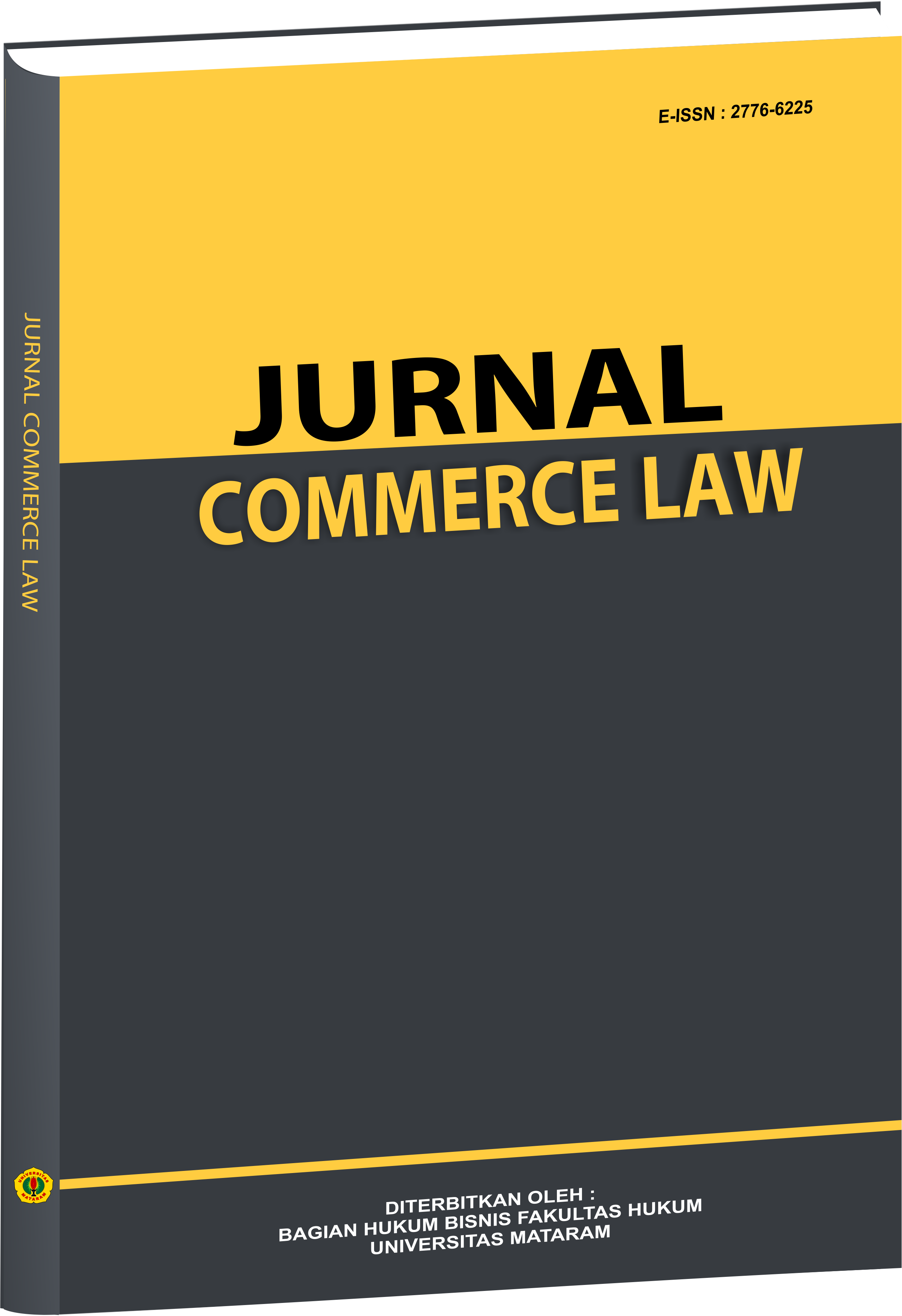 How to Cite
Hadi, S., B.F., A. R. H., & Mulada, D. A. (2022). Perlindungan Hukum Usaha Mikro Kecil Dan Menengah (UMKM) Terhadap Praktik Monopoli Dilihat Dari Perspektif Hukum Persaingan Usaha. Commerce Law, 2(1). https://doi.org/10.29303/commercelaw.v2i1.1345
Copyright (c) 2022 Sopyan Hadi, Ari Rahmad Hakim B.F., Diman Ade Mulada
This work is licensed under a Creative Commons Attribution-NonCommercial-NoDerivatives 4.0 International License.
The authors hold the copyright. Authors retain copyright and grant the journal right of first publication with the work simultaneously licensed under a Creative Creative Commons Attribution-NonCommercial-NoDerivatives 4.0 International License.. that allows others to share the work with an acknowledgement of the work's authorship and initial publication in this journal. How ever the author should affirming that the article is their original work should accompany the article via online submission form. Authors are permitted to share a Preprint of their article anywhere at any time.