Pelaksanaan Perjanjian Kemitraan Antara PT. GRAB Dengan Ritel Makanan
(Studi Di Kota Mataram)
Khaezul Fikri

Fakultas Hukum Universitas Mataram

Eka Jaya Subadi

Dosen Fakultas Hukum Universitas Mataram
Abstract
This study describes the implementation procedure of partnership agreement between PT. Grab and food vendors, and identifies the solution in the case of default. This study is a normative-empirical one. The partnership between PT. Grab and food vendors is written in agreements. Agreement points are submitted electronically. Rights and obligations for both parties are managed in Article 5.1 and 5.2 regarding requirements and general provisions in Grab App. In the case of default, both parties agree to undertake colloquial negotiation, considering social and customary law.
References
Buku
Amirudin dan Zaenal Asikin. Pengantar metode penelian Hukum, Rajawali Pers, jakarrta, 2012.
Peter Mahmud Marzuki, Penelitian Hukum Edisi Revisi, Kencana, Jakarta, 2016, hlm 177.
Salim H.S, 2006, Perkembangan Hukum Kontrak Di Luar KUH Perdata (Buku I), Raja Grafindo Persada, Jakarta.
______, 2021, Hukum Kontrak Elektronik (E-Contract Law), Raja Grafindo Persada, Jakarta, hlm. 199

Zainudin ali. Metode penelitian hukum,Sinar grafika, 2011

Peraturan Perundang-Undangan

Tim Permata Press, 2010, Kitab Undang-Undang Hukum Perdata, Permata Press, Malang.

Website

http://www.grab.com/id/. Pada hari Selasa, tanggal 13 Oktober 2020, pukul 10.11 WITA.

http://www.hukumonline.com/ Pada hari senin, tanggal 13 September 2021, pukul 20:15 WITA.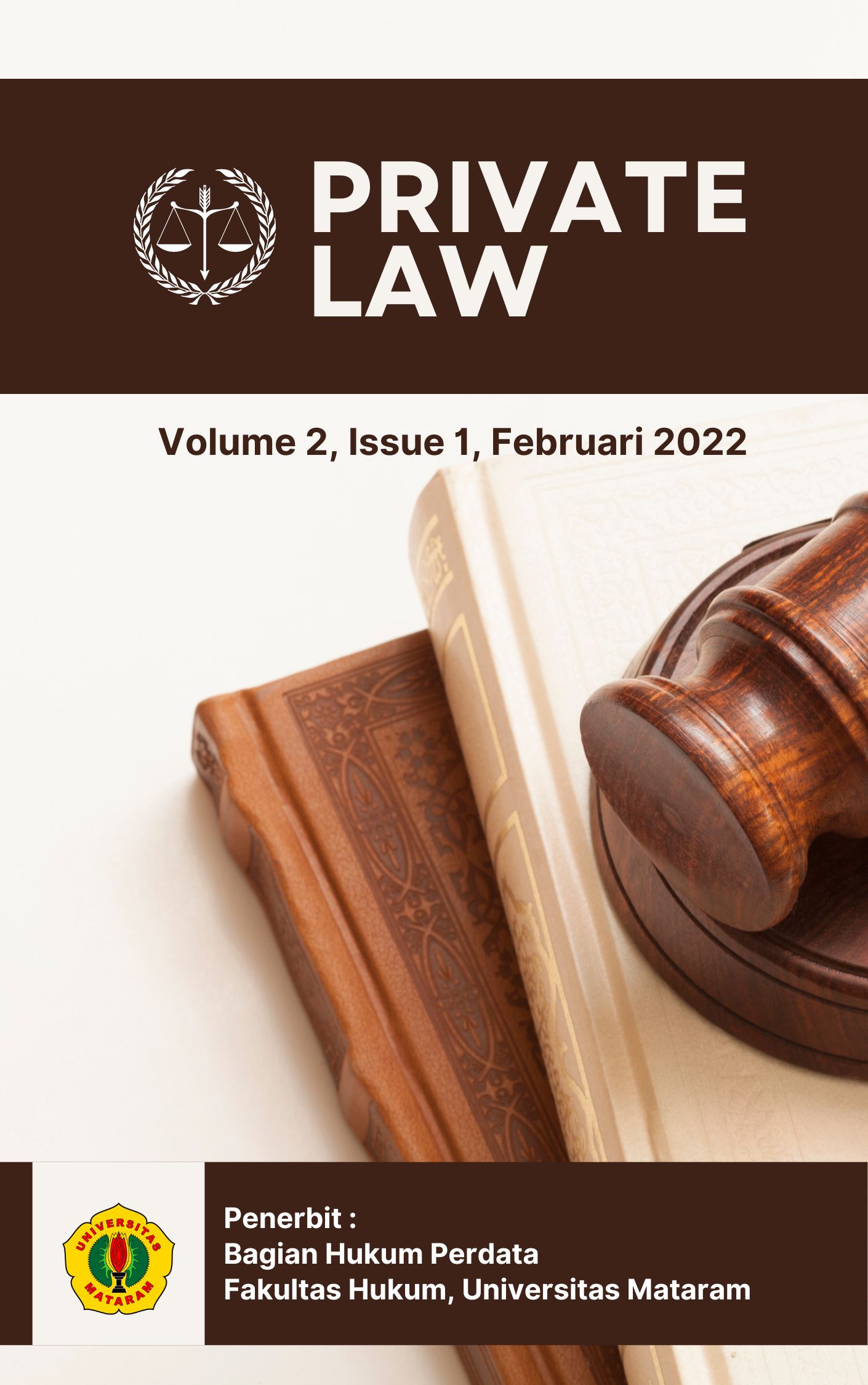 How to Cite
Fikri, K., & Jaya Subadi, E. (2022). Pelaksanaan Perjanjian Kemitraan Antara PT. GRAB Dengan Ritel Makanan: (Studi Di Kota Mataram). Private Law, 2(1), 197-204. Retrieved from https://journal.unram.ac.id/index.php/privatelaw/article/view/661