PENDAMPINGAN PENINGKATAN NILAI EKONOMI KACANG BUNCIS MENJADI PRODUK OLAHAN DI SEMBALUN TIMBA GADING
Muhammad Haikal Akram Arya

Universitas Mataram

Wisnu Mahendra

Universitas Mataram

Nur Yatin

Universitas Mataram

Citra Yuniarti

Yuniarti

Indradi Rahmatullah

Universitas Mataram

Johan Miranda

Universitas Mataram

Anisa Risti

Universitas Mataram

Putri Imbin Sari

Universitas Mataram

Feni Fatriani

Universitas Mataram

Tika Puspa Sari

Universitas Mataram

Muhammad Sarjan

Universitas Mataram
Keywords:
Nilai Ekonomi, Kacang Buncis, Produk, Olahan
Abstract
Sembalun Timba Gading Village is one of 6 villages in the Sembalun sub-district. The strategic location of the area makes Sembalun Timba Gading Village very suitable for developing agricultural, plantation and tourism potential. Almost all the people in Sembalun Timba Gading Village work as farmers, but there are some people who work as civil servants, tour operators, MSME movers, etc. However, most of the community's income comes from the agricultural sector. One of the leading commodities of Timba Gading Village is Beans, which are planted and harvested every year. Therefore, Beans is our main focus, in this case Desapreneur, to improve the quality of MSMEs through the development and marketing of processed Beans products.
References
Cahyono, B. 2007. Kacang Buncis:Teknik Budidaya Dan Analis Usaha Tani. Kanisius Yogyakarta. 129 pp.
Duke, A. James. 1981. Handbook of Legumes of World Economic Importance. Plenum Press New York and London. 345 pp.
Hardani, Hardani, Politeknik Medica, Farma Husada, Helmina Andriani, Dhika Juliana Sukmana, Universitas Gadjah Mada, and Roushandy Fardani. 2020. Buku Metode Penelitian Kualitatif & Kuantitatif. Edited by Husnu Abadi. 1st ed. Yogyakarta: CV. Pustaka Ilmu Group.
Maq, Mumu Muzayyin. 2022. "Program Pendampingan Kewirausahaan Kecil Menengah Pada Usaha Makanan Ringan Di Desa Leuwimunding" 1 (6): 493–98.
Normina. 2014. "Masyarakat Dan Sosialisasi" 12 (22): 107–15.
Pratiwi, Ambar, and Arufah Faizah Nafira. 2021. "PENGARUH FREKUENSI PENYIRAMAN TERHADAP PERTUMBUHAN BUNCIS (Phaseolus Vulgaris L.)" 17 (2): 75–84.
Saepudin, Asep. 2015. PROSIDING Seminar Dan Temu Akademisi PLS Tingkat Nasional. Bandung, Jawa Barat: Departemen Pendidikan Luar Sekolah.
Sukesti, Fatmasari. 2011. "MENINGKATKAN KOMODITAS UNGGULAN EKSPOR UKM DALAM RANGKA PENGEMBANGAN EKONOMI DAERAH ( Studi Pada UKM Di Jawa Tengah )," 86–92.
Susan, Eri. 2019. "MANAJEMEN SUMBER DAYA MANUSIA," no. 2: 952–62.
Susetyarsi, Th. 2012. "Kemasan Produk DItinjau Dari Bahan Kemasan, Bentuk Kemasan Dan Pelabelan Pada Kemasan Pengaruhnya Terhadap Keputusan Pembelian Pada Produk Minuman Mizone Di Kota Semarang," 19–28.
Menteri Desa. 2015. Peraturan Menteri Desa, Pembangunan, Daerah Tertinggal dan Transmigrasi Republik Indonesia No. 3 Tahun 2015 tentang Pendampingan Desa. Jakarta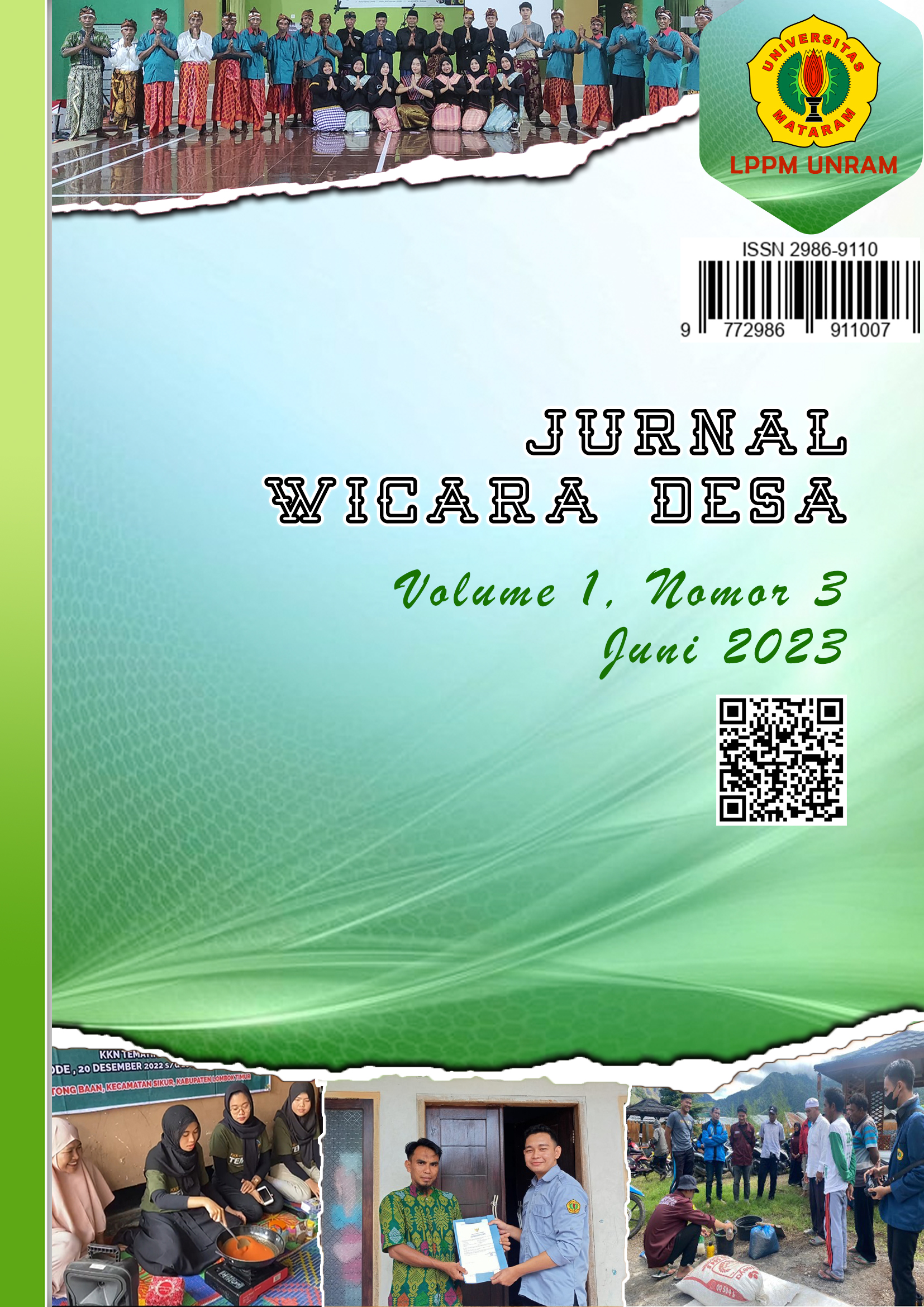 How to Cite
Arya, M. H. A., Mahendra, W., Yatin, N., Yuniarti, C., Rahmatullah, I., Miranda, J., Risti, A., Sari, P. I., Fatriani, F., Sari, T. P., & Sarjan, M. (2023). PENDAMPINGAN PENINGKATAN NILAI EKONOMI KACANG BUNCIS MENJADI PRODUK OLAHAN DI SEMBALUN TIMBA GADING. Jurnal Wicara Desa, 1(3), 456-463. https://doi.org/10.29303/wicara.v1i3.2430