Perlindungan Terhadap Instalasi Nuklir Dalam Wilayah Konflik Bersenjata Internasional Berdasarkan Hukum Internasional
Gregorius Bagus Ageng Pambudi Pambudi

University of Mataram

Zunnuraeni

Universitas Mataram

Lalu Guna Nugraha

Universitas Mataram
Keywords:
Instalasi Nuklir, Perlindungan Istimewa, Tanggung Jawab Negara
Abstract
Abstrak Tujuan penelian ini untuk menganalisis perlindungan instalasi nuklir yang memberi kontribusi efektif terhadap aksi militer dan implikasi hukum bagi negara yang melakukan  serangan terhadap instalasi nuklir dalam konflik bersenjata. Dalam penelitian ini menggunakan jenis peneliatan normative. Berdasarkan hasil penelitian ini diketahui bahwa perlindungan instalasi nuklir yang digunakan untuk kepentingan militer tidak dapat diserang meskipun digunakan untuk kepentingan militer, namun jika instalasi nuklir digunakan untuk kepentingan militer dengan hanya memberi kontribusi bagi kepentingan militer secara tetap, langsung dan mengandung arti penting, maka fungsinya sebagai penunjang dapat diserang. Syarat pemberhentian perlindungan instalasi nuklir bertentangan dengan peraturan perlindungan istimewa instalasi nuklir karena dapat mengancam kehidupan warga sipil. Tindakan serangan terhadap instalasi nuklir yang digunakan untuk kepentingan militer merupakan tindakan bertentangan hukum, oleh karena itu negara harus bertanggung jawab atas tindakan tersebut. Abstract The purposes of this study were to analyze protection of nuclear installation which give effective contribution on military activity and legal implication to the state which attacked nuclear installation in the armed conflict territory. This research applied normative legal research. Based on result's study, it can be known that protection on nuclear installation which used for military activity shall not be military object, even though it used for military purposes. However, if it used for military purposes by giving regular essential contribution, direct, and has an important meaning, thus its function as support of war can be attacked. Requirements for protection termination violated the provisions on special protection of nuclear installation because it may cause harm for civilian. Attacks towards nuclear installation which used for military activity is an act against the law, thus the attacking state has to be responsible on that action.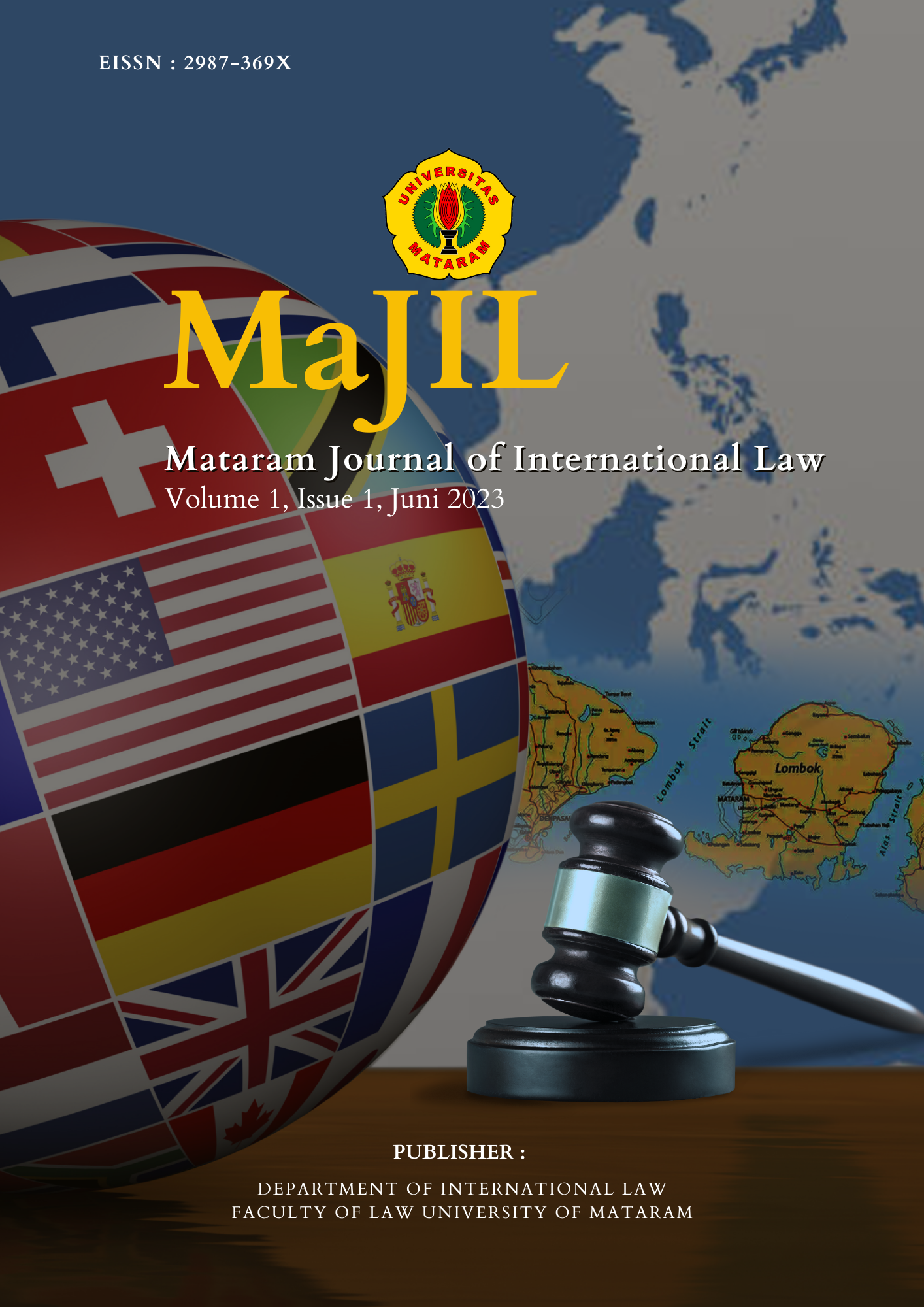 How to Cite
Pambudi, G. B. A. P., Zunnuraeni, & Nugraha, L. G. (2023). Perlindungan Terhadap Instalasi Nuklir Dalam Wilayah Konflik Bersenjata Internasional Berdasarkan Hukum Internasional. Mataram Journal of International Law, 1(1). Retrieved from https://journal.unram.ac.id/index.php/majil/article/view/2626
Copyright (c) 2023 Gregorius Bagus Ageng Pambudi Pambudi, Zunnuraeni, Lalu Guna Nugraha
This work is licensed under a Creative Commons Attribution-ShareAlike 4.0 International License.