Perlindungan Hukum Bagi Para Pihak Dalam Transaksi E-Commerce Menurut Tata Hukum Indonesia
Didik Kusuma Yadi

Universitas Mataram

Muhammad Sood

Universitas Mataram

Dwi Martini

Universitas Mataram
Keywords:
Perlindungan Konsumen, Perlindungan Hukum, Transaksi Elektronik (e-commerce)
Abstract
Penelitian ini bertujuan Untuk mengetahui upaya perlindungan hukum dalam transaksi dagang menggunakan e-commerce terhadap para pihak pelaku kegiatan tersebut, dan Untuk mengetahui bentuk penyelesaian sengketa bagi pihak yang dirugikan apabila terjadi permasalahan dalam transaksi dagang melalui e-commerce. Jenis penelitian ini adalah penelitian hukum normatif. Hasil penelitian menunjukkan bahwa Adapun pengaturan e-commerce di dalam tatanan hukum Indonesia diantaranya diatur dalam Undang-Undang Nomor 19 Tahun 2016 tentang Informasi dan Transaksi Elektronik (ITE), Kitab Undang-Undang Hukum Perdata, Undang-Undang Nomor 8 Tahun 1999 tentang Perlindungan Konsumen. Bentuk Perlindungan Hukum Bagi Para Pihak Yang Dirugikan dibagi menjadi 2 yaitu: Perlindungan Hukum Preventif: Yakni bentuk perlindungan hukum dimana kepada rakyat diberi kesempatan untuk mengajukan keberatan atau pendapatnya sebelum suatu keputusan pemerintah mendapat bentuk yang definitif. Perlindungan Hukum Represif: Yakni bentuk perlindungan hukum dimana lebih ditujukan dalam penyelesaian sengketa. Regulasi perlindungan hukum bagi konsumen dapat dilihat pada Undang-Undang Nomor 8 Tahun 1999 tentang Perlindungan konsumen. Penyelesaian Sangketa Apabila Terjadi Permasalahan Permasalahan Dalam Transaksi e-commerce. Adapun penyelesaian sengketa dapat ditempuh melalui tiga cara diantaranya: Penyelesaian Sengketa Secara Litigasi, Penyelesaian sengketa secara Non litigasi meliputi Alternatif Penyelesaian Sengketa (Alternative Dispute Resolution) disingkat (ADR) yakni penyelesaian di luar pengadilan dengan cara konsultasi, negosiasi, mediasi, konsiliasi, atau penilaian ahli. ADR memiliki 3 (tiga) tipe penyelesaian sengketa, yaitu: Negosiasi online (assisted negotiation dan automated negotiation) meliputi Assisted Negotiation, Automated Negotiation, Mediasi online dan Arbitrase. Serta melalui BPSK.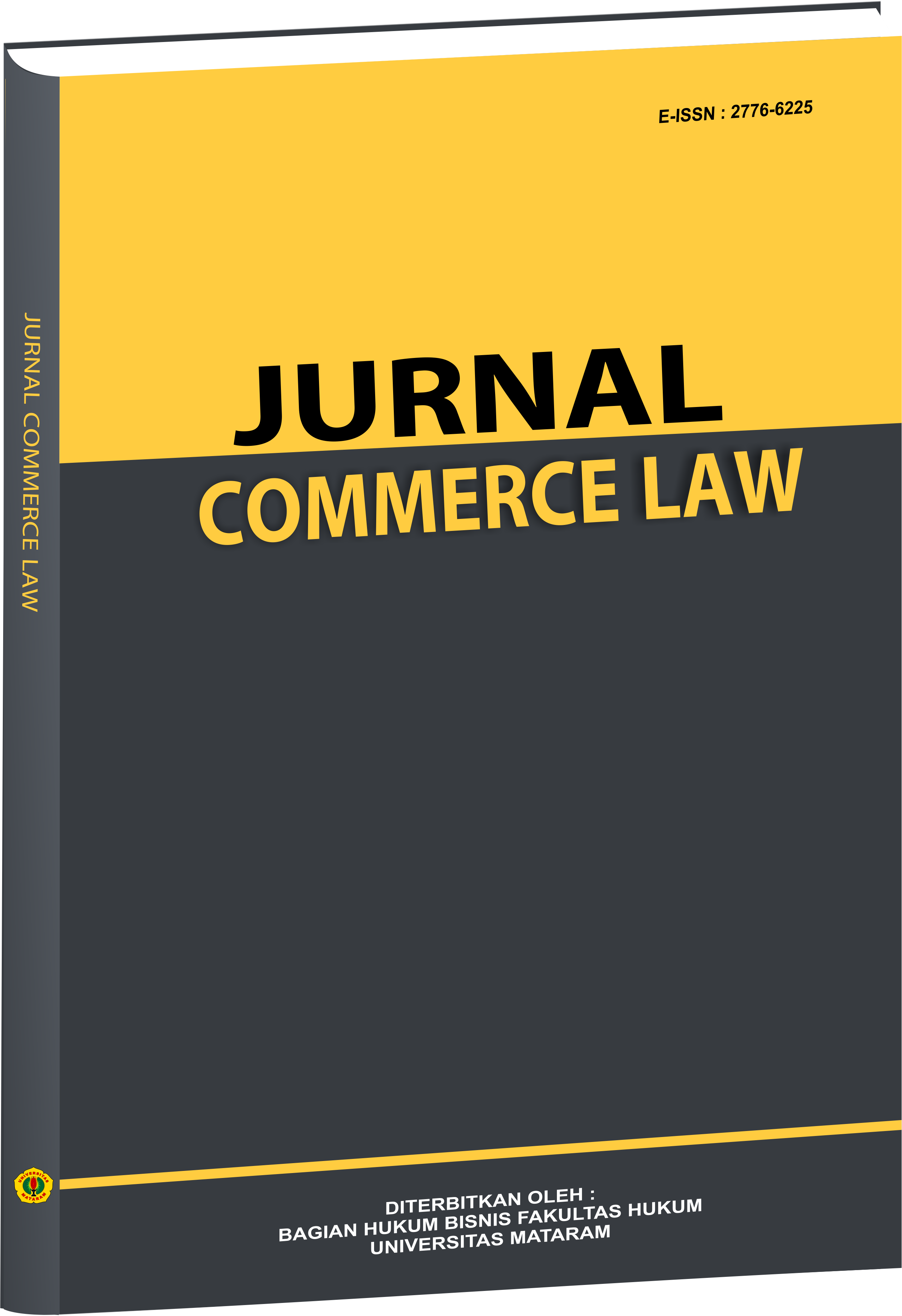 How to Cite
Yadi, D. K., Sood, M., & Martini, D. (2022). Perlindungan Hukum Bagi Para Pihak Dalam Transaksi E-Commerce Menurut Tata Hukum Indonesia. Commerce Law, 2(1). https://doi.org/10.29303/commercelaw.v2i1.1368
Copyright (c) 2022 Didik Kusuma Yadi, Muhammad Sood, Dwi Martini
This work is licensed under a Creative Commons Attribution-NonCommercial-NoDerivatives 4.0 International License.
The authors hold the copyright. Authors retain copyright and grant the journal right of first publication with the work simultaneously licensed under a Creative Creative Commons Attribution-NonCommercial-NoDerivatives 4.0 International License.. that allows others to share the work with an acknowledgement of the work's authorship and initial publication in this journal. How ever the author should affirming that the article is their original work should accompany the article via online submission form. Authors are permitted to share a Preprint of their article anywhere at any time.