PEMANFAATAN AQUAPONIK SEBAGAI TEKNOLOGI BUDIDAYA IKAN NILA DAN SAYURAN YANG MENDUKUNG PERTANIAN BERKELANJUTAN DI DESA KAYANGAN, KECAMATAN KAYANGAN, KABUPATEN LOMBOK UTARA
M Abdul Azis

Universitas Mataram

Heny Widianti

Universitas Mataram

Sanhuri Sanhuri

Universitas Mataram

Sulhan Salma Ranesa

Universitas Mataram

Syarifa Ayu Anggraini

Universitas Mataram

Zulham Mizwar

Universitas Mataram

Cok Gea Berliana

Universitas Mataram

Nur Ayu Lestari

Universitas Mataram

Ragil Alfarizi Kalia

Universitas Mataram

Rani Sahrani

Universitas Mataram

Made Sriasih

Universitas Mataram
Keywords:
aquaponik, pemberdayaan masyarakat, ikan nila, sayuran
Abstract
This introduction to aquaponic planting techniques aims to provide examples of the application of advanced and sustainable agricultural technology to the people in Kayangan village, Kayangan sub-district, North Lombok district (KLU). This activity was carried out from December 2022 to February 2023 at the Bagek Kembar hamlet, Kayangan. The fish used were 60 days old fish seeds with a size of 10 cm x 5 cm which were reared in a 4x3 m tarpaulin container. The plant growth media used is in the form of used foam taken from one of the residents' houses with a size of 5 cm. Placement of the planting media uses used plastic cups and used bottles as containers for placing plastic cups. The vegetables used in making this aquaponics are mustard greens, lettuce and pakcoy. The nutrients used to support plant growth are in the form of fish manure and some additional organic nutrients which are made independently using organic waste from the kitchen. The results of using aquaponic technology as a cultivation technology show that the plants grow but the leaves of the plants turn yellow and the fish in the pond can grow large.
References
Adimihardja, A., L.I. et al. 2000. Sumberdaya Lahan Indonesia dan Pengelolaannya. Pusat Penelitian Tanah dan Agroklimat. Badan Penelitian dan Pengembangan Pertanian. Departemen Pertanian. Hlm 19.
Aswanti. 2008. Dalam Konteks Pemenuhan Gizi Seimbang. Jurnal Kependudukan Indonesia. 3(2): 97–119.
Connolly, dkk. (2010): Optimization of a backyard aquaponic food production system. McGill University
Dewanti, P. (2019). "Budidaya Terpadu Ikan Dan Sayuran Melalui Metode Akuaponik Di Desa Serut Kecamatan Panti Kabupaten Jember." Warta Pengabdian 13(4):164. doi: 10.19184/wrtp.v13i4.13766.
Diver, S. (2006): Aquaponics—Integration of Hydroponics with Aquaculture. ATTRA—National Sustainable Agriculture Information Service (National Center for Appropriate Technology).
Febrianti, D., et al. (2020). Membangun Bangsa Dari Desa Melalui Sistem Akuaponik Ditengah Pandemi Covid 19. LOGISTA-Jurnal Ilmiah Pengabdian kepada Masyarakat, 4(2), 450-456.
Kao, T. C., et al. (1991). The dynamic root floating hydroponic technique: year-round production of vegetables in roc on Taiwan. Taipei, Taiwan: ASPAC Food & Fertilizer Technology Center.
Khairuman, A. dkk. 2005. Budi Daya Ikan Nila Secara Intensif. Jakarta, AgroMedia.
Maharani, N. dkk. 2016. Penerapan Aquaponic Sebagai Teknologi Tepat Guna Pengolahan Limbah Cair Kolam Ikan Di Dusun Kergan, Tirtomulyo, Kretek, Bantul, Yogyakarta. Universitas Gadjah Mada. Yogyakarta
Notohadinegoro, T. 2000. Diagnostik Fisik Kimia dan Hayati Kerusakan Lahan. Makalah pada Seminar Pengusutan Kriteria Kerusakan Tanah/Lahan, Asmendep I LH/Bapedal. 1-3 Juli 1999. Yogyakarta. Hlm. 54-61.
Nugraheni, W. 2013. Urban Farming Gaya Bertani Spesifik Kota. Yogyakarta.
Oriska, R. 2012. Tanah. Universitas Negeri Yogyakarta: Yogyakarta.
Sastro, Y. 2016. Teknologi Akuaponik Mendukung Pengembangan Urban Farming. Jakarta: BPTP Jakarta.
Savidov, N. 2004. Evaluation and Development or Aquaponics Production and Product Market Capabilities in Alberta. In Alberta Agriculture Food and Rural Development. Ids Initiatives Fund Final
Susanto H. (2006): Budidaya ikan di pekarangan (Edisi Revisi). Penebar Swadaya, Jakarta.
Zidni I, dkk. 2013. Pengaruh padat tebar terhadap pengaruh benih lele sangkuriang (Clarlas garlepinus) dalam sistem akuaponik. Jurnal Perikanan dan Kelautan 4(4): 315-324.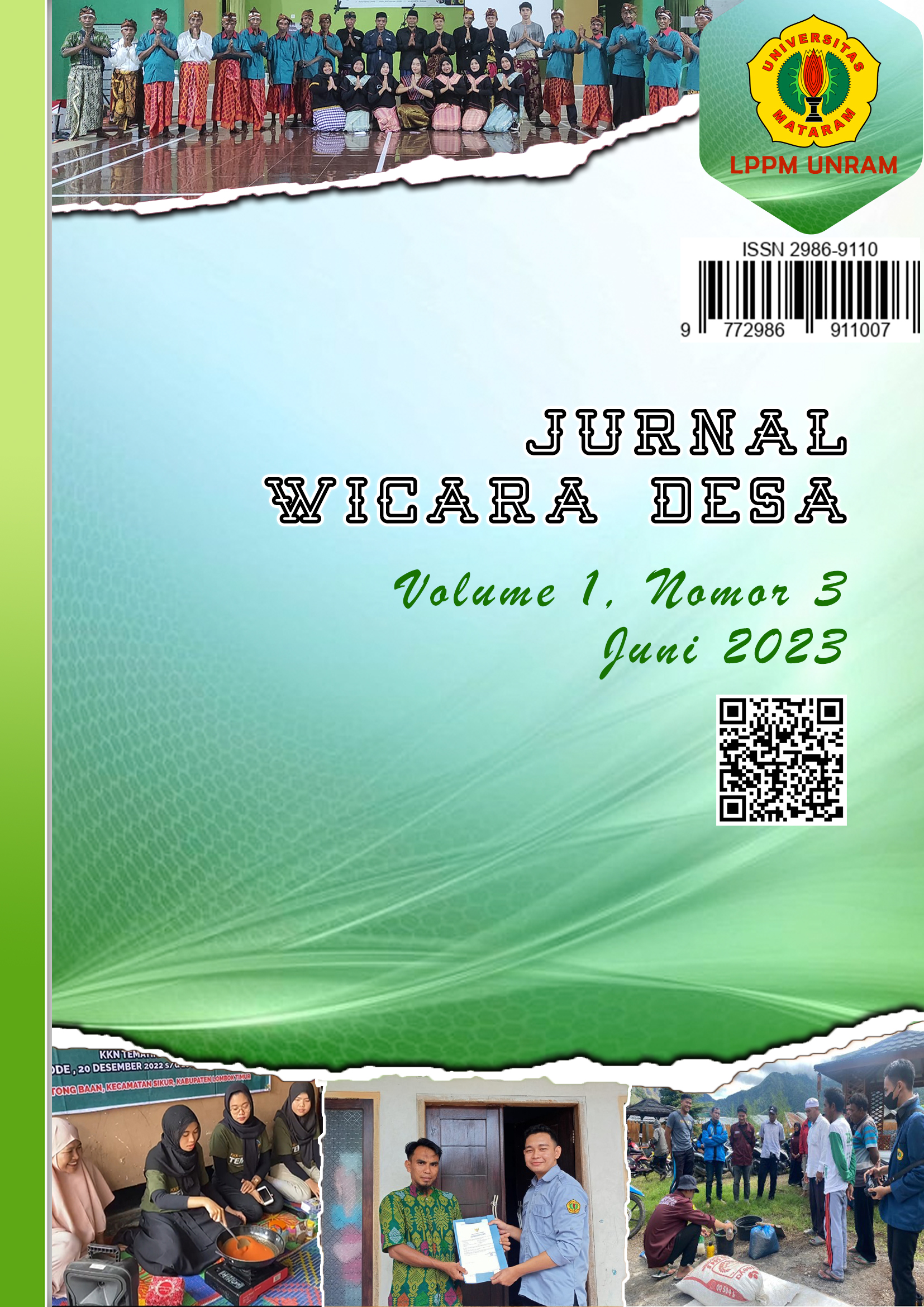 How to Cite
Azis, M. A., Widianti, H., Sanhuri, S., Ranesa, S. S., Anggraini, S. A., Mizwar, Z., Berliana, C. G., Lestari, N. A., Kalia, R. A., Sahrani, R., & Sriasih, M. (2023). PEMANFAATAN AQUAPONIK SEBAGAI TEKNOLOGI BUDIDAYA IKAN NILA DAN SAYURAN YANG MENDUKUNG PERTANIAN BERKELANJUTAN DI DESA KAYANGAN, KECAMATAN KAYANGAN, KABUPATEN LOMBOK UTARA. Jurnal Wicara Desa, 1(3), 369-376. https://doi.org/10.29303/wicara.v1i3.2447