PEMBERDAYAAN MASYARAKAT MELALUI PEMBUATAN PUPUK ORGANIK CAIR DARI LIMBAH ORGANIK RUMAH TANGGA DI DESA PENIMBUNG KECAMATAN GUNUNGSARI KABUPATEN LOMBOK BARAT
Lalu Cipta Galuh Pramuda

Universitas Mataram

Izma Paryantini

Universitas Mataram

Namira Putri Maulida

Universitas Mataram

Bunial Khawarizmi

Universitas Mataram

Sri Helmayana Rahmi

Universitas Mataram

Ulul Albab Almujaddidy

Universitas Mataram

Anggya Nurakhmadya Saren

Universitas Mataram

Vista Citra Puspita Swari

Universitas Mataram

Erni Oktafianingsih

Universitas Mataram

Luluk Fahrani Wal Marjan

Universitas Mataram

Ida Bagus Giri Putra

Universitas Mataram
Keywords:
Desa Penimbung, limbah organik, pupuk organic cair
Abstract
Penimbung Village is one of the villages in the Gunungsari District, West Lombok Regency. Penimbung Village has an area of 420 hectares or 4.2 acres, which consists of 7 main hamlets and 3 preparatory hamlets. The waste problem in Penimbung Village is a serious problem because there is no Final Garbage Disposal Site (TPS). The lack of public knowledge regarding the use of organic waste is also a major problem. The purpose of this activity is to increase public knowledge regarding the use of organic waste to become liquid organic fertilizer so that it has use value for the environment. The method used in this activity is counseling and demonstration. The community paid attention to the material presented and then continued with a demonstration of making and assisting in the manufacture of liquid organic fertilizer. From the evaluation results, it was found that the community felt helped by this activity and gained knowledge about how to process household waste, especially organic waste. Community empowerment activities in Penimbung Village through training in the manufacture of liquid organic fertilizer have again introduced the community to the concept of advanced and sustainable agriculture where the utilization of waste, apart from providing use value for the environment, can also reduce expenditure on purchasing fertilizers for agriculture.
References
Deselina, Edi S., dan Wiryono. 2022. PembuatanPupuk Kompos Cair dari Limbah Buah. Indonesian Journal of Community Empowerment and Service, Vol. 2(1), hal.6-11.
Direktorat Sarana Produksi. 2006. Pupuk Terdaftar. Direktorat Jenderal Tanaman Pangan, Departemen Pertanian : Jakarta.
Hardiatmi S. 2011. Pendukung Keberhasilan Pengelolaan Sampah Kota. INNOFARM: Jurnal Inovasi Pertanian, vol. 10(1), hal. 50-66.
Jalonen, R., Kymäläinen, M., & Rintala, J. (2020). Rural livelihood improvement through household organik waste management. Renewable Agriculture and Food Systems, vol. 35(3), hal. 246-257.
MOERDJOKO S, WIDYATMOKO, 2002, Menghindari, mengolah dan menyingkirkan sampah, Cet.1, PT. Dinastindo Adiperkasa Internasional: Jakarta.
Nur, T., Noor, A. R. and Elma, M. (2016) PEMBUATAN PUPUK ORGANIK CAIR DARI SAMPAH ORGANIK RUMAH TANGGA DENGAN BIOAKTIVATOR EM 4 ( Effective Microorganisms). Konversi. Vol. 5(2), hal. 44–51. doi: 10.20527/k.v5i2.4766.
Odugbo, O. I., Idowu, O. A., & Oladeji, O. J. (2018). Household organik waste fermented into liquid fertilizer: Characteristics and application. Waste Management, vol. 70, hal. 91-98.
Prasetyawati, M, dkk. 2019.Pelatihan Pembuatan Pupuk Cair Dari Bahan Sampah Organik Di RPTRA Kelurahan Penggilingan. Prosiding Seminar Nasional Pengabdian Masyarakat LPPM UMJ. JAKARTA, 24 September 2019.
Suryati, T., 2009. Bijak dan Cerdas Mengolah Sampah: Membuat kompos dari sampah rumah tangga. Agromedia: Jakarta.
YUWONO, TEGUH. 2006. Kecepatan Dekomposisi dan kualitas Kompos Sampah Organik. Jurnal Inovasi Pertanian. Vol. 4(2).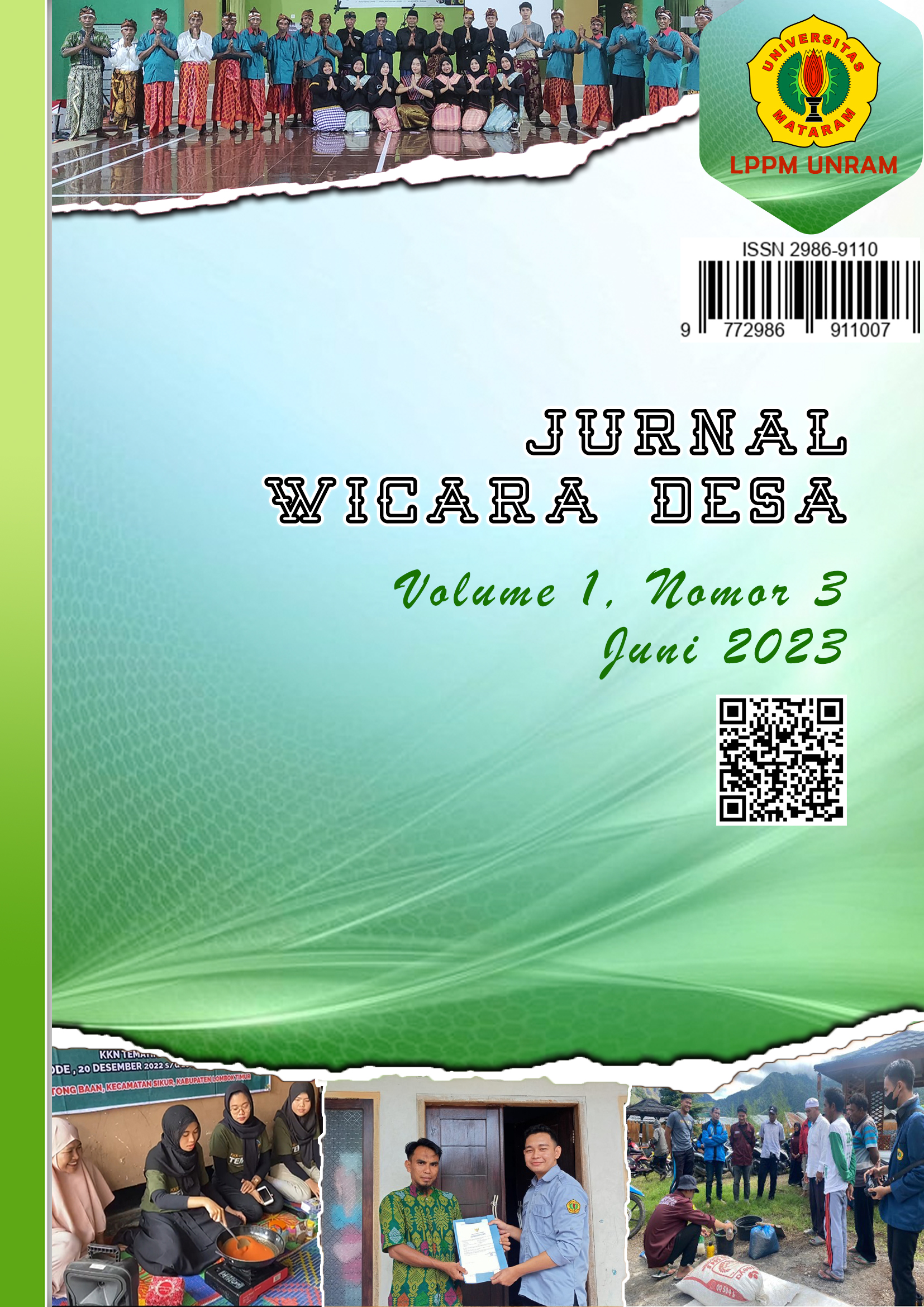 How to Cite
Pramuda, L. C. G., Paryantini, I., Maulida, N. P., Khawarizmi, B., Rahmi, S. H., Almujaddidy, U. A., Saren, A. N., Swari, V. C. P., Oktafianingsih, E., Marjan, L. F. W., & Putra, I. B. G. (2023). PEMBERDAYAAN MASYARAKAT MELALUI PEMBUATAN PUPUK ORGANIK CAIR DARI LIMBAH ORGANIK RUMAH TANGGA DI DESA PENIMBUNG KECAMATAN GUNUNGSARI KABUPATEN LOMBOK BARAT. Jurnal Wicara Desa, 1(3), 377-382. https://doi.org/10.29303/wicara.v1i3.2449