Mimosa pudica L. Leaves Ethanol Extract In Vitro Analysis of Anthelmintic Activity to Ascaridia galli
Galuh Tresnani

Program Studi Biologi, FMIPA Universitas Mataram

Rima Martini

Pharmaceutical Study Program, Faculty of Medicine, The University of Mataram

Iman Surya Pratama

Pharmaceutical Study Program, Faculty of Medicine, The University of Mataram
Keywords:
Mimosa pudica, Anthelmintic, Ascaridia galli
Abstract
Mimosa pudica leaves contain of metabolites such as tannin, flavonoid and alkaloid which have the anthelmintic effects. This effect would be expected to minimalize the infection of parasitic worm Ascaridia galli in chicken. The research aim was to determine the effectivity of ethanol extract from mimosa leaves to A. galli worm in vitro. Mimosa leaves were extracted using maceration process. Worm samples were grouped randomly, consist of the positive control (Piperazine 1%), negative control (CMC Na 0.5%) and the treatment groups (10%, 20% and 50% of extract concentration). Mortality and paralysis data from the worm samples were collected and analyzed using Kruskal Wallis and Mann Whitney Test. The phytochemical analysis showed that mimosa leaves extract contains all the secondary metabolite which can cause paralysis and mortality of A. galli. The 50% concentration of mimosa leaves extract can cause paralysis in 90 minutes equal with the positive control. The mortality time achieved by positive control, 50%, 20% and 10% of ethanol extract of mimosa leaves sequentially as follows 120, 270, 645 and 780 minutes. In conclusion, 50% mimosa leaves extract concentration have the best effect of anthelmintic, the paralysis effect equal with Piperazine but the mortality time is still slower than Piperazine.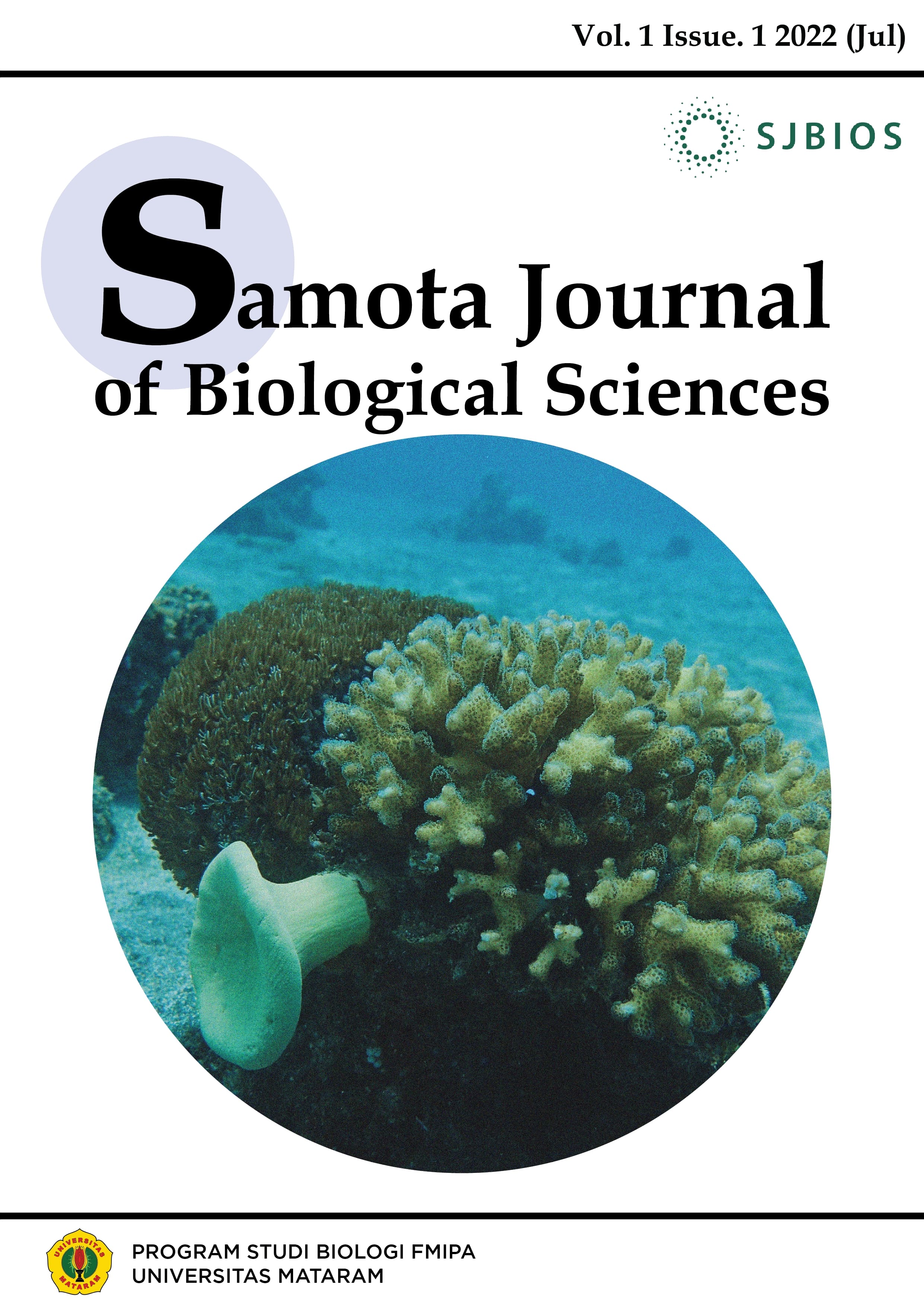 How to Cite
Tresnani, G., Martini, R., & Pratama, I. S. (2022). Mimosa pudica L. Leaves Ethanol Extract In Vitro Analysis of Anthelmintic Activity to Ascaridia galli. Samota Journal of Biological Sciences, 1(1), 19-26. Retrieved from https://journal.unram.ac.id/index.php/samota/article/view/628
Copyright (c) 2022 Galuh Tresnani, Rima Martini, Iman Surya Pratama
This work is licensed under a Creative Commons Attribution-NonCommercial 4.0 International License.