PENGEMBANGAN UMKM SERTA PENGABDIAN DI BIDANG PENDIDIKAN DAN KESEHATAN DI DESA LANGKO
Rahmat Hidayat

Universitas Mataram

Devitha Octaviana Wirawan

Universitas Mataram

Eva Sulastri

Universitas Mataram

Atikasari Atikasari

Universitas Mataram

Siti Zakhrah

Universitas Mataram

Putri Oktaviana

Universitas Mataram

Diah Laili Yusri

Universitas Mataram

Baiq Nuinsa Sohi Fatrani

Rahmiana Febianingsih

Universitas Mataram

Nadya Safitri

Universitas Mataram
Keywords:
Kuliah Kerja Nyata (KKN), Nira, aren, gula semut
Abstract
Real Work Lecture (KKN) is a form of community service activity carried out by tertiary institutions. In the KKN activities carried out in Langko Village, Lingsar District, West Lombok Regency. Student groups carry out activities with the aim of developing village potential. The purpose of carrying out this activity is to develop the potential that exists in the village such as palm sugar and banana-cassava chips as well as carry out services in the fields of education and health. The method used is palm sugar to palm ant sugar, flavors of banana and cassava chips, socialization on prevention of early marriage, clean Friday, healthy Saturday, teaching at tpq, calistung, teaching at school. The results obtained were to help develop the business of making palm ant sugar, increase the reading and numeracy skills of school students, outreach to prevent early marriage, CALISTUNG for the elderly so that they still know letters and numbers can also read and write, help teach the Koran TPQ, Friday is clean so that friendly relations were established by working together, developing a chip business by providing flavor variants and updating packaging and also healthy Saturdays were carried out so that residents in Langko village could maintain good friendships. Apart from that, the Mataram University Integrated KKN group is also involved in various other activities, namely helping prepare food for pregnant women in Langko Village as well as delivering it to their respective homes, posyandu activities and cleaning the village environment. The results of the activities above show that the activities of the Mataramini University Integrated KKN Group have carried out several work programs for the potential that exists in Langko Village related to mapping village potential and developing existing potentials in the fields of MSME, education and health.
References
Website Desa Langko. Diakses pada 13 februari 2023, dari https://5201122006.website.desa.id/.
SA Nugroho. Prenada Media. Hukum persaingan usaha di Indonesia. 2014
AO Siagian, N Indra. SyntaxLiterate; Pengetahuan akuntansi pelaku usaha mikro kecil dan menengah (UMKM) terhadap laporan keuangan. Jurnal Ilmiah, 4. (12),17-35, 2019 – jurnal.syntaxliterate.co.id
DIREKTORAT JENDERAL BPPHP. 2005. Revitalisasi Pertanian Melalui Agroindustri Perdesaan. Jakarta : Departemen Pertanian.
Evalia, N. A. (2015). Strategi pengembangan agroindustri gula semut aren. Jurnal Manajemen & Agribisnis, 12(1), 57-57.
Kurniawan, H., Yuniarto, K., & Khalil, F. I. (2018). Introduksi teknologi pengemasan gula aren di desa kekait kabupaten lombok barat. Widyabhakti Jurnal Ilmiah Populer, 1(1), 118-123.
Alpian, Yayan, dkk. 2019. Pentingnya Pendidikan Bagi Manusia. Jurnal Buana Pengamdian. Vol 1 (2). Hal 66-72
Asiah, Nur. 2018. Pembelajaran Calistung Pendidikan Anak Usia Dini Dan Ujian Masuk Calistung Sekolah Dasar Di Bandar Lampung. Jurnal Pendidikan dan Pembelajaran Dasar. Vol 5 (1) : Hal 19-42
Fatwa Tentama Dkk "PENERAPAN PERILAKU HIDUP BERSIH DAN SEHAT (PHBS) DEMI KESEJAHTERAAN MASYARAKAT KECAMATAN TUNTANG KABUPATEN SEMARANG JAWA TENGAH" yogyakarta Vol 1 hal 15-16
Rahmi winangsih, dkk. "PEMBERDAYAAN MASYARAKAT DALAM PROGRAM KKN- PPM DALAM MENINGKATKAN PERILAKU HIDUP BERSIH DAN SEHAT DI KECAMATAN CIPOCOK JAYA KOTA SERANG" Banten Vol 4, hal 112-114.
Fadlyana E dan Shinta L. 2009. Pernikahan Dini dan Permasalahannya. Sari Pediatri Vol 11 (20) : 136-140
Siwalette, A. (2014). Pelaksanaan Jumat Bersih Di Kelurahan Sulaiman Kecamatan Margahayu Kabupaten Bandung (Doctoral dissertation, Universitas Komputer Indonesia).
Maryunani Anik, Perilaku Hidup bersih dan Sehat (PHBS) untuk mahasiswa kesehatan dan petugas kesehatan, Trans Info Media : Jakarta, 2013
Murdiansyah,Isnan.2022.Peningkatan Baca Alqur'an di TPQ Al-Anwar Dusun Siderejo Desa Wandanpuro.02 (01).221-222. Di akses 16 februari 2023 dari https://journal.yp3a.org/index.php/pakmas/article/download/860/430
Nurochmah,Alivia Dewi.Dkk.2022.Peran TPQ dalam Meningkatkan Kualitas Kemampuan Baca Alqur'an Pada Anak di TPA Ar -Rahman. 01 (09) .1-8.Di akses 16 Februari 2023 dari https://bajangjournal.com/index.php/JPDSH/article/view/2965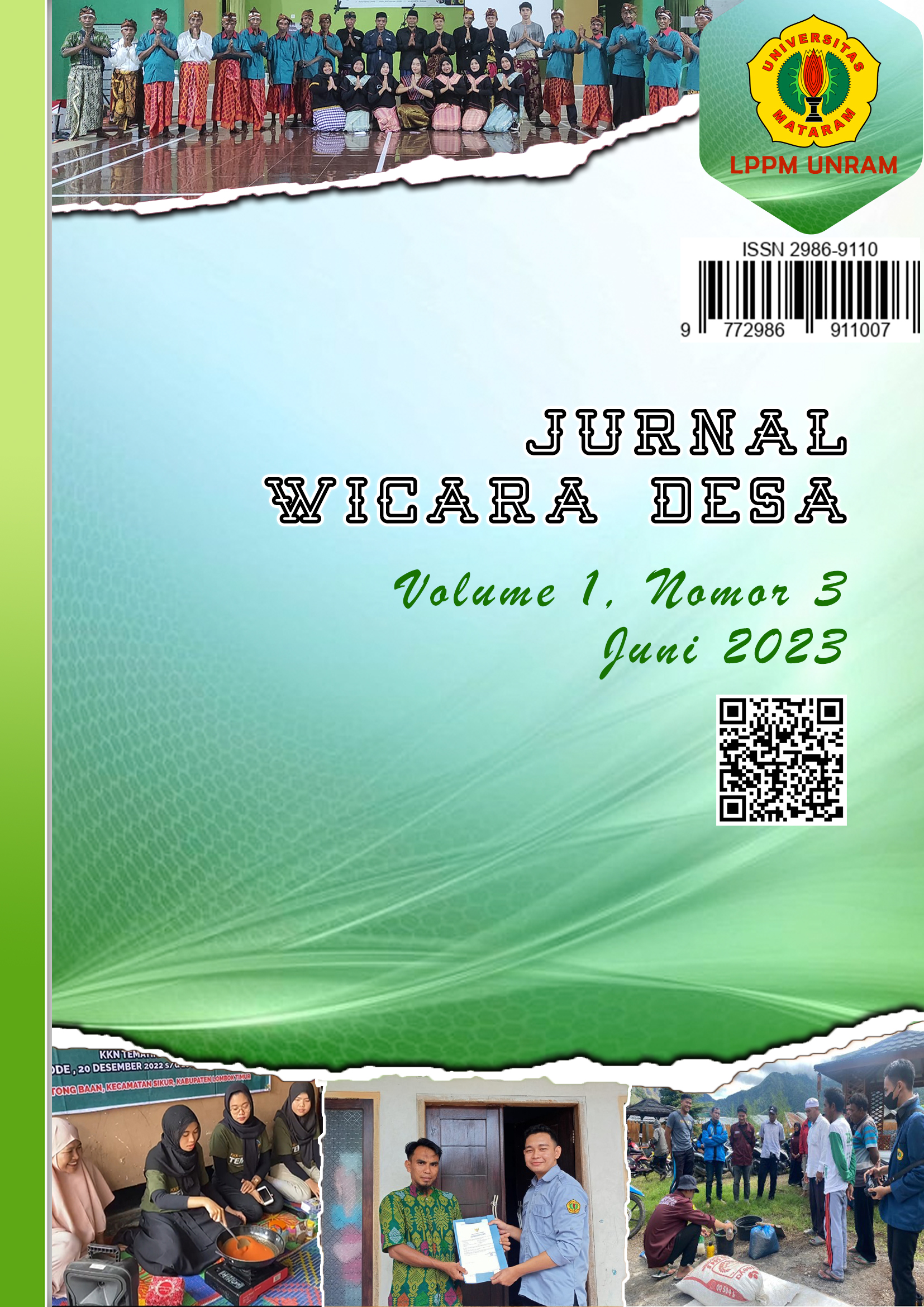 How to Cite
Hidayat, R., Wirawan, D. O., Sulastri, E., Atikasari, A., Zakhrah, S., Oktaviana, P., Yusri, D. L., Fatrani, B. N. S., Febianingsih, R., & Safitri, N. (2023). PENGEMBANGAN UMKM SERTA PENGABDIAN DI BIDANG PENDIDIKAN DAN KESEHATAN DI DESA LANGKO. Jurnal Wicara Desa, 1(3), 424-433. https://doi.org/10.29303/wicara.v1i3.2426