Keanekaragaman Teritip pada Tiga Ekosistem (Hutan Mangrove, Padang Lamun dan Terumbu Karang) di Perairan Sekotong
Dining Aidil Candri

Universitas Mataram
Abstract
In order to maintain the continuity of the ecotourism area and several infrastructures built in the coast of sekotong, we need to conduct a further research about the bernacles diversity that has a potential to caused damage to the waterfront-city building made with wood, rocks and tiles. This study aims to see the bernacles diversity in three different ecosystems such as mangrove, seagrasess and coral reef ecosystem with three different natural growth medium made with wood, rocks and tiles. The result demonstrated that there's only two species of bernacles found growth and living in all of the growth medium in three different ecosystems. These species were belongs to the genera of amphibalanus and terctralitella The tetraclitella genus only found grow and live on a wooden medium in the mangrove and seagrasses medium. Meanwhile the amphibalanus found mostly in every growth medium om each ecosystems. Thus, made the amphibalanus as dominant genus with the density of 1644,4 individual/m2. Whereas the tertraclitella density were only 22,22 individu/m2.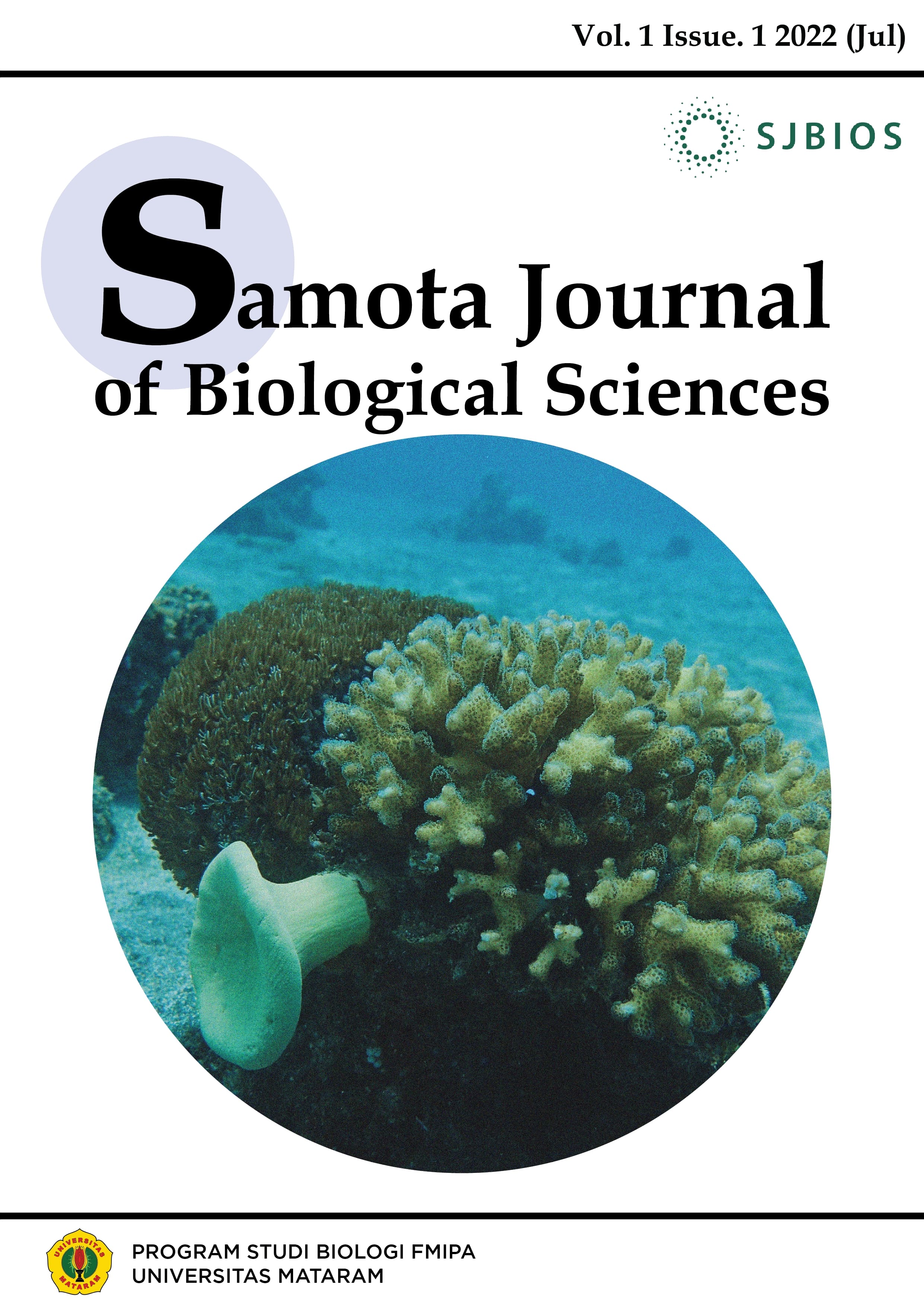 How to Cite
Candri, D. A. (2022). Keanekaragaman Teritip pada Tiga Ekosistem (Hutan Mangrove, Padang Lamun dan Terumbu Karang) di Perairan Sekotong. Samota Journal of Biological Sciences, 1(1), 27-38. Retrieved from https://journal.unram.ac.id/index.php/samota/article/view/1384
Copyright (c) 2022 Dining Aidil Candri
This work is licensed under a Creative Commons Attribution-NonCommercial 4.0 International License.