PERLINDUNGAN HUKUM ATAS PEMBATALAN PERJANJIAN PENGGUNAAN JASA TARI SANGGAR SANG DEWI OLEH RAPTCHA EVENT ORGANIZER
Baiq Diana Hazona, Yudhi Setiawan & Diman Ade Mulada

Universitas Mataram
Abstract
Penelitian ini bertujuan untuk mengetahui dan menganalisis perlindungan hukum dan penyelesaian sengketa atas pembatalan perjanjian jasa tari Sanggar Tari Sang Dewi oleh Raptcha Event Organizer. Jenis penelitian yang digunakan adalah penelitian hukum normatif-empiris. Adapun hasil yang diperoleh dari penelitian bahwa Perlindungan Hukum atas pembatalan perjanjian penggunaan jasa tari Sanggar Tari Sang Dewi yaitu dalam perjanjian kerjasama telah diatur bahwa downpayment yang diberikan oleh Raptcha Event Organizer dinyatakan hangus (menjadi hak dari Sanggar Tari Sang Dewi) ini merupakan bentuk perlindungan hukum terhadap pihak Sanggar Tari Sang Dewi ketika terjadi pembatalan perjanjian. Kemudian Proses penyelesaian sengketa dilakukan sebagaimana ditentukan dalam surat perjanjian, yakni melalui Musyawarah (Negosiasi), atau jika tidak menemukan kata sepakat antara kedua belah pihak, dapat melakukan melalui jalur Mediasi. Kata Kunci: Perlindungan Hukum; Pembatalan; Perjanjian.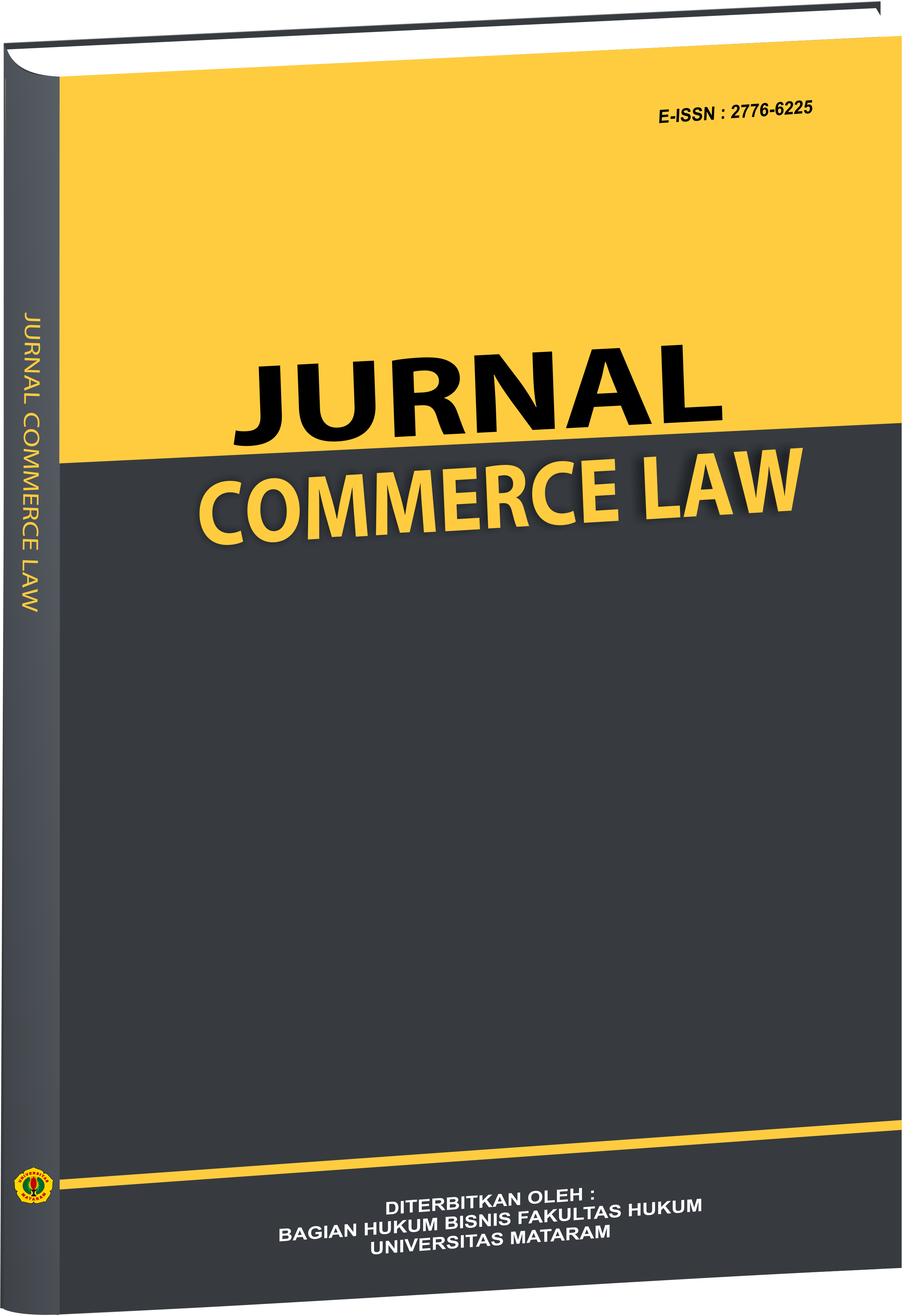 How to Cite
Yudhi Setiawan & Diman Ade Mulada, B. D. H. (2021). PERLINDUNGAN HUKUM ATAS PEMBATALAN PERJANJIAN PENGGUNAAN JASA TARI SANGGAR SANG DEWI OLEH RAPTCHA EVENT ORGANIZER . Commerce Law, 1(2). https://doi.org/10.29303/commercelaw.v1i2.545
The authors hold the copyright. Authors retain copyright and grant the journal right of first publication with the work simultaneously licensed under a Creative Creative Commons Attribution-NonCommercial-NoDerivatives 4.0 International License.. that allows others to share the work with an acknowledgement of the work's authorship and initial publication in this journal. How ever the author should affirming that the article is their original work should accompany the article via online submission form. Authors are permitted to share a Preprint of their article anywhere at any time.