PENGATURAN TERHADAP INVENSI YANG BERKAITAN DENGAN KEPENTINGAN PUBLIK MENURUT UNDANG-UNDANG NOMOR 13 TAHUN 2016 TENTANG PATEN (STUDI TERHADAP VAKSIN COVID-19)
Baiq Ratna Soliha Oktaviana A

Universitas Mataram

Budi Sutrisno, Dwi Martini

Universitas Mataram
Abstract
Pandemi Covid-19 yang mewabah telah memberikan dampak di berbagai bidang kehidupan, baik bidang ekonomi, politik maupun pendidikan. Hal tersebut mewajibkan pemerintah untuk menjamin keselamatan masyarakat melalui vaksinasi Covid-19. Penelitian ini bertujuan untuk menganalisis pengaturan terhadap invensi yang berkaitan dengan kepentingan publik menurut Undang-Undang Nomor 13 Tahun 2016 tentang paten (studi terhadap vaksin Covid-19). Untuk menganalisis tersebut, digunakan penelitian normatif. Hasil dari penelitian menemukan bahwa vaksin covid-19 sebagai invensi yang menguasai hajat hidup banyak orang telah diatur dalam Konstitusi yaitu UUD Tahun 1945 maupun Undang-Undang Nomor 13 Tahun 2016 tentang Paten. Maka dengan ini penerapan suatu paten ini yang disebabkan karena adanya konflik kepentingan (conflict of interest) terutama dari segi aspek politik dan ekonomi.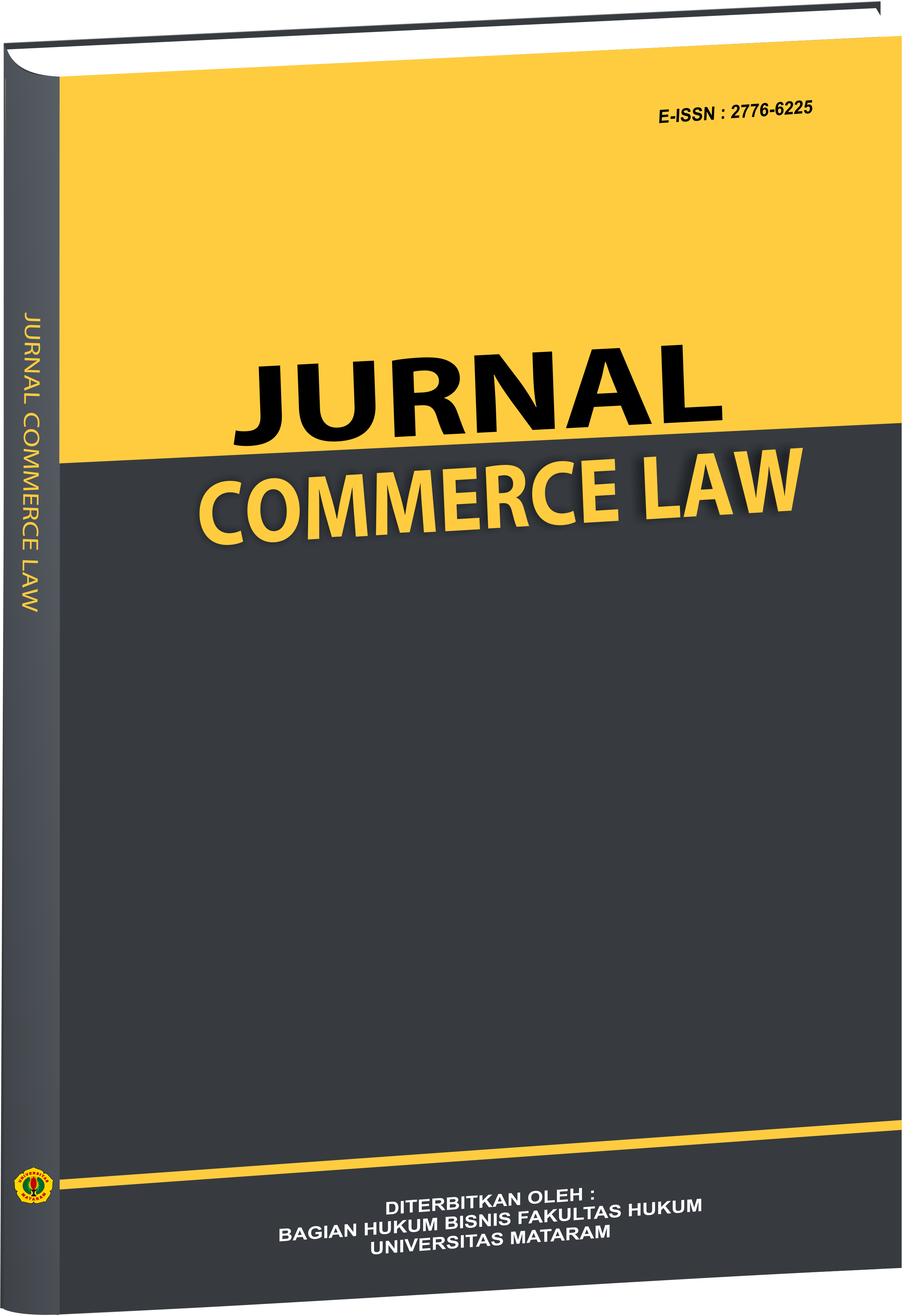 How to Cite
Oktaviana A, B. R. S., & Dwi Martini, B. S. (2021). PENGATURAN TERHADAP INVENSI YANG BERKAITAN DENGAN KEPENTINGAN PUBLIK MENURUT UNDANG-UNDANG NOMOR 13 TAHUN 2016 TENTANG PATEN (STUDI TERHADAP VAKSIN COVID-19). Commerce Law, 1(2). https://doi.org/10.29303/commercelaw.v1i2.538
The authors hold the copyright. Authors retain copyright and grant the journal right of first publication with the work simultaneously licensed under a Creative Creative Commons Attribution-NonCommercial-NoDerivatives 4.0 International License.. that allows others to share the work with an acknowledgement of the work's authorship and initial publication in this journal. How ever the author should affirming that the article is their original work should accompany the article via online submission form. Authors are permitted to share a Preprint of their article anywhere at any time.